Getty Images/iStockphoto
UK voters worried that election will be targeted by hackers
Online voting is being held back in the UK because of fears that cyber criminals could influence the results
According to a survey this week, 40% of Britons fear that the UK general election on Thursday (8 June) might be targeted by hackers.
Fears have been stoked by recent alleged attacks on the democratic process in the US.
"Claims that Russian hackers had some influence on last year's US presidential elections have sparked a wave of scepticism around the safety of electronic voting here in the UK," said Pete Turner, consumer security expert at Avast, which carried out the survey.

Download this free guide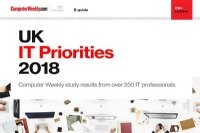 2018 UK IT Priorities survey results
IT organisations in the UK and across Europe are starting to accelerate the move to the cloud. Read more about the key areas in which senior IT managers are planning to invest in over the next 12 months.
The survey also asked about people's attitudes to electronic voting and only 7% said they fully trust this form of voting, while more than half (52%) think electronic voting is not trustworthy.
However, 30% of the Brits surveyed were in favour of electronic voting, their reasons being increased turnout and making it easier for Brits abroad to vote.
"The move to digital is a necessary part of evolving the electoral process for the benefit of the public," said Turner. "Rather than simply abandoning the move to e-voting, politicians need to reassure the public that, when the move to e-voting does take place, that the proper security measures are in place to ensure the democratic process is not open to abuse."
The alleged interference by Russian hackers in the US election is not the only example of cyber crime being linked with the democratic process. There have been claims by MPs that foreign governments seeking to influence the outcome of the UK vote on leaving the EU may have targeted the referendum website.
The website for registering to vote in the referendum crashed 90 minutes before the deadline on 7 June 2016, forcing it to be extended and raising fears that thousands of voters may have missed the chance to register.
Read more on IT for government and public sector