This Content Component encountered an error

Telecoms operators and technology firms in the United Arab Emirates (UAE) are experimenting with applications for light fidelity (LiFi) technology, in the hope that the high-speed data transmission concept will aid the development of smart city systems.

LiFi, billed as a complement to, rather than a replacement for, Wi-Fi, transmits data from device to device via light, rather than radio bands. It uses light-emitting diodes (LEDs) to transmit data, resulting in – some claim – a data transmission potential of up to 10GB/s in real-world scenarios. Also, early trials suggest that, in the right use cases, LiFi could be much cheaper to implement than Wi-Fi.

Another benefit is that LiFi uses visible light spectrum (VLS), which means it is unimpeded by radio interference and generates no electromagnetic smog. This makes it an increasingly attractive option for intrinsically hazardous environments, such as refineries, oil platforms and petrol stations.

The facts around this emerging technology have not been lost on UAE firms. Dubai-based operator Du claims to be one of the first major companies in the world to demonstrate use cases of LiFi.

Whether or not that claim is accurate, Du is certainly shaping up to be one of the Middle East's earliest adopters of LiFi. The firm recently demonstrated how LiFi hotspots can be set up to provide internet access, in conjunction with Zero.1, another Dubai-based technology firm.

When announcing the successful demonstration, Du said it would add LiFi capabilities to its portfolio of business services.

"We expect to see demand for this technology increasing exponentially over the coming years," said Saleem AlBlooshi, executive vice-president of network development and operations at Du. "We wanted to ensure our customers were aware of this technology and the demonstration of LiFi technology complements our broadband portfolio for the business segment."

AlBlooshi said Du was working with a number of its major customers to create tailor-made LiFi systems, which he said would further validate the technology's use cases.
Read more about networking in the Middle East
Although details of these use cases have not yet been released, another recent announcement by Du suggests consumers could soon benefit from LiFi deployments. The operator has tied up with Zero.1, which provides LiFi-enabled technology, to roll out LiFi internet connectivity at the Dubai Silicon Oasis technology park by the end of 2016.
That deployment will see LiFi embedded in the zone's street lamps, creating pervasive connectivity across the area. It is expected that most Android and iOS devices will be able to connect to the LiFi lamps via their cameras.
Du already offers Wi-Fi hotspots around Dubai, and hopes LiFi will enable it to roll out internet connectivity to more areas at less cost. The company said LiFi would also enable a number of other services.
"The outdoor deployment of LiFi enables motion detection, geo-localisation and camera networks through street lights, while the indoor deployment supports retail, healthcare, education and cultural centres," said Du in a recent statement.
Behind these implementations is a system largely provided by Zero.1, which plans to introduce LiFi connectivity to the rest of the Gulf region soon.
IOTA range
The connectivity will be provided by the company's intelligent outdoor tower automation (IOTA) product range, which comprises traditional LED street lamps with LiFi connectivity. The network is managed via Zero.1's City.1 management software, which allows network managers to access a dashboard view of the infrastructure.
However, Zero.1 claims its systems will be able to provide more than simple connectivity to the streets of Dubai. The company's CEO, Marc Fleschen, said the technology paved the way to enable the concept of a smart city, which Dubai has been chasing for over a year.
He said the IOTA range, along with City.1 software, provides "experiential and management solutions for public spaces, community places, industrial hubs and commercial plots".
"Working with Du, we look forward to the roll-out of our LiFi applications in the Dubai smart city platform and the retail sector as the year unfolds," said Fleschen.
The company also has its sights on museums, cultural centres and galleries with the LiFi-enabled ART4U app, which can deliver tour guides through audio or text in multiple languages. Users can select a quick tour or full tour option, or choose a particular type of exhibit. With that information, the app will create an individual tour guide and a timeline for the visit.
Better understanding
For museum managers, the app enables a better understanding of visitor behaviour and traits. Managers can use it to identify the venue's hot and cold zones, and best and least-favoured exhibits and services.
The company also said the app was easy to update when new exhibits were installed or existing exhibits changed their location.
Zero.1 is also targeting the healthcare sector with a LiFi-enabled management solution called HEALTHCARE4U, due to launch in the final quarter of 2016. Fleschen said the benefits of LiFi made the technology well-suited to healthcare environments.
"In such environments, LiFi provides a safer, faster and more efficient solution for many aspects of hospital management," he said. "Those involved in hospital development must consider the role LiFi will play in tomorrow's healthcare centres. LiFi is a cleaner solution that does not interfere with sensitive equipment or patient wellbeing."
Although LiFi is still in its early stages, research suggests the market for its applications is on track to be worth $80bn globally by 2021. But with companies such as Du and Zero.1 rushing to prove its use cases in the Gulf, that number could end up being much bigger.
Content Continues Below

Download this free guide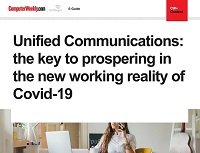 Unified Communications: the key to prospering in the new working reality of Covid-19
The coronavirus is changing everything about how people work, and will do so permanently. It added that even though the working world was experiencing unprecedented uncertainty, there were two things that should be borne in mind: the virus will pass, and at the other side of the pandemic, the world of work will look very different.