How an IT department in a portacabin supports UK's biggest critical infrastructure project
The man in charge of the IT supporting the UK's largest critical infrastructure project – the redevelopment of London Bridge station – tells Computer Weekly about life in a portacabin
A fully functioning IT department was set up in a portacabin to support the £1bn project to transform London Bridge railway station and its hinterland.
The project is the largest critical infrastructure project in the UK at present, and also the largest infrastructure project that Network Rail, the commissioning organisation, has ever done. It is part of the wider £6.5bn Thameslink Programme.
Due to its close proximity to the City of London, about 56 million passengers pass through London Bridge station each year. The transformation of the station includes new platforms, complete modernisation and even a new concourse as big as the football pitch at Wembley.
It all began with a planning application in the summer of 2011. Work began in 2012, and is due to be completed in 2018.
All the IT underpinning this project is housed in a 3,875m2 portacabin, and is supported by a small UK IT services firm.
When construction and civil engineering firm Costain won the contract to rebuild the station it had to set up an IT department to support the project for its six-year duration. Costain is a UK company which employs about 5,000 people. Its turnover was £1.32bn in 2015.
Costain's Richard Tranter, a site engineer by trade, was put in charge of setting up and running the IT supporting the project. Tranter has worked at Costain for 18 years, moving into IT about seven years ago.
He says creating IT departments designed to last the life of a project is normal for Costain, but the London Bridge project has seen the company make a few changes, such as extensive use of the cloud and partnering with a small to medium-sized enterprise (SME) IT supplier.
Portacabin is technology hub
One of the first things Costain did when work started from a serviced office in Blackfriars in 2012 was put out a competitive tender for provision of everything from backbone cabling to hardware and software. The likes of BT, Capgemini and Atos bid, but after narrowing the choice down to three, the contract was won by IT services SME Streamwire.
The project team was then moved to a building at London Bridge – a five-storey portacabin re-used from a previous development at Kings Cross. Virtually everybody on the project is based in this building, known as Beazley House. It is kitted out with Dell PCs and Xerox and Sharp printers – all running on Windows 7. Then there are designers using specialist machines and software.
The next step was to create a communications network. Tranter says the project team did not want to rely on the typical IP network, but wanted to create something new that London Bridge could look after itself. It created a London Bridge domain, with the network built using Cisco networking equipment.
Since then the IT operation has not paused for breath. The 24/7 service supports about 500 staff from Costain, Network Rail and Streamwire, along with designers and supply chain partners. Tranter says all parties work together: "It's not a them and us, it is a truly integrated team."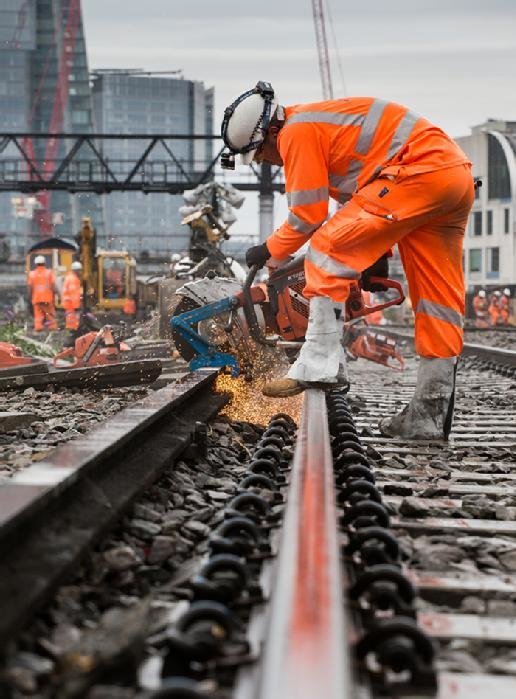 Each member of staff has at least one PC, and design teams have CAD workstations. The IT focused team comprises eight staff. Although the IT infrastructure will not exist after 2018, it has to be built as any IT department would be. Things like security are no different in a temporary project to a permanent IT department, says Tranter.
He says it is normal in construction to create IT departments on a temporary basis, but the London Bridge project is a bit different. "We normally set up a couple of portacabins, a data line and about 20 PCs. But this is a big job, with about 500 PCs."
It also has to be up and running 24 hours a day to ensure the project doesn't miss any important deadlines, known as possessions. These are planned years in advance. A project such as this, at a major transport hub, needs to plan these deadlines to coincide with certain periods when it is relatively quiet, such as Christmas.
"The last thing you want is a network or computer problem if they are rushing to hand over, because if you miss that handover you might have to wait months for the next opportunity," says Tranter.
It is this risk of missing deadlines through IT downtime that has driven the project into the cloud.
IT in the cloud
The IT started on-premise, but switched to Microsoft Office 365 in summer 2015. "With everything on-premise we were concerned that if we had a disaster like a fire it would take time to get back up, even though everything is backed up," says Tranter. "The mail is done, and the challenge this year is moving the data files from on-premise to the cloud."
Tranter says the cloud will be more secure, open up collaboration opportunities, allow more flexibility and provide archiving. These are particularly important on a project underpinned by an IT infrastructure that will be decommissioned when the work is complete.
But moving from on-premise to the cloud has its challenges for a temporary IT department. Tranter says one of the changes seen in this project, compared with the previous, is the need for a bigger internet pipe. "In the old days we probably had 20 people hanging on a 20MB line, but now we are on a 500MB line and we are soon moving to 1GB."
It is experiences like this and the use of an SME supplier in the London Bridge build that Tranter hopes Costain will emulate in future projects.
Innovative small company delivers big savings
For UK-based IT services supplier Streamwire, the project is an important proof of concept. If the UK's biggest critical infrastructure project can use the services of an SME IT services provider, why shouldn't any large business?
"One of the important things for us was proving that a small company can work well with a big company," says Streamware managing director Anne Stokes. "Many organisations shy away from looking at how they can work with SMEs, which is a problem because if you want to make it work you can."
She says it takes trust for large organisations to move to smaller suppliers, but technology today means small companies can support very large ones.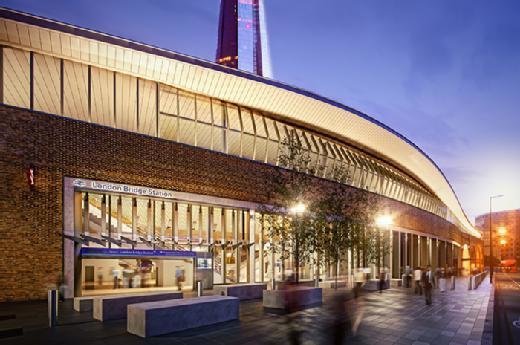 In fact, the flexibility of smaller suppliers can provide benefits. One of Streamwire's winning factors was its commitment to innovation, particularly around the environment. A huge project such as that at London Bridge can have a huge environmental impact, so reducing the negative effects is important.
Even seemingly small innovations that might be ignored by large suppliers, with their fixed processes and standards, can have huge benefits. Costain's work with Streamwire to reduce IT power consumption is a case in point.
Streamwire is using Caretaker Software, a power management tool that connects to desktops in the office and monitors energy use. It puts screens to sleep when computers are not being used and reports on the power savings.
This saves thousands of pounds in energy costs and reduces the carbon footprint of the project. In a single quarter, for example, this software saved the London Bridge project 37,896.68kg of carbon and 70,513.94kWh – equating to a cost saving of £20,000 a year.
"If everyone at Costain used this software the savings would be massive," says Tranter.