ktsdesign - Fotolia
MasterCard selfie payment system to be launched in US after Dutch success
MasterCard rolls out fingerprint and facial recognition identification technology for online payments following a successful Dutch pilot
A pilot of the use of fingerprint and facial recognition for payments in the Netherlands revealed that 90% of people prefer using biometric identification to passwords for online payments.
The six-month pilot was tested on 750 customers of Dutch bank ABN Amro, and was run by MasterCard and International Card Services (ICS). It found that 75% of the testers believed biometric payments will reduce fraud, and 77% want to continue using a fingerprint and facial recognition after the pilot.
MasterCard said commercial interest led to the company's decision to launch the technology in the US, Canada and parts of Europe in the summer of 2016. This will include integrating biometric technology with apps from banks.
Users get a pop-up on their smartphone when paying online and they authorise transactions using their fingerprint or facial recognition.
"The Dutch consumer is very progressive in embracing new technologies. Our country is the international leader in easy, safe and efficient payments," said Arjan Bol, country manager Netherlands at MasterCard.
"We are examining the possibilities to integrate our technology in the banking and tech giants' apps to make payment using a selfie or fingerprint even easier."
In January 2015, Visa Europe published the results of a survey that showed the new generation of banking customers would rather use biometric security devices than PINs and passwords.
Read more about biometric security
The survey showed that 75% of 16 to 24-year-olds would have no problem using biometric security, with 69% expecting it to be faster and easier than a password or a PIN.
Separately, HSBC recently said that it will boost mobile banking security by giving more than 15 million customers access to accounts online using voice or fingerprint recognition biometric technologies.
The system will be rolled out at HSBC's First Direct internet and phone banking division, with other HSBC's customers to follow in the summer of 2016.
Content Continues Below

Download this free guide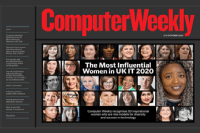 The Most Influential Women in UK Technology 2020
In this week's Computer Weekly, we announce our annual list of the Most Influential Women in UK Technology, and talk to this year's winner, Stemettes CEO and diversity campaigner Anne-Marie Imafidon. Meet our five Rising Stars and the latest entrants to our women in tech Hall of Fame. Read the issue now.