olly - Fotolia
Businesses invest in software to fuel digitisation strategy
A survey from Oxford Economics for CA Technologies found that businesses are investing heavily in software to create new business opportunities
Business leaders are turning to the "application economy" in a bid to create software products that become a core part of their organisation.
Many companies are looking at how to become digital businesses by creating software and information-based products. Few would have imagined just how quickly this is happening.
In March 2015, CA Technologies commissioned Oxford Economics to conduct a global survey of senior business and technology executives about application strategy and its impact on business outcomes. The survey found that the speed with which companies are adopting the application economy is accelerating at a rapid pace.
As a result, many businesses are rethinking competitive advantage and differentiation, the report stated.
Unlike e-commerce, which business leaders saw as a new channel to market, the application economy offers organisations the tantalising prospect of creating an entirely new business. Organisations are creating software platforms to deliver new digital business services.
According to the survey, 43% of executives believe that becoming a software-driven enterprise is a critical driver of competitive advantage today, rising to 78% in three years.
"Today, success depends on delivering a superior customer experience," said Otto Berkes, chief technology officer at CA Technologies. "As companies undergo digital transformation, they must focus on the customer experience, since it will be a key differentiator in today's application economy."
The study reported that many companies are finding it very difficult to fill capability gaps in the top skills needed for success in the application economy. These include data science, collaboration, application programming interfaces (APIs) and IT security.
Making software a business driver
GE is one organisation pushing its software business. The company has just sold its Reliability Excellence application to Whitegate Power Station in County Cork, Ireland. The power station has implemented the GE technology to help it operate more efficiently and reliably. According to GE, Reliability Excellence taps into industrial-scale data analytics to predictively identify operational issues before they occur.
In June 2014, GE installed condition-based, real-time monitoring, featuring 141 sensors throughout the plant. Through around-the-clock monitoring of Whitegate's hardware assets, the Reliability Excellence technology aims to provide the facility's operators with a single, consolidated view of plant performance.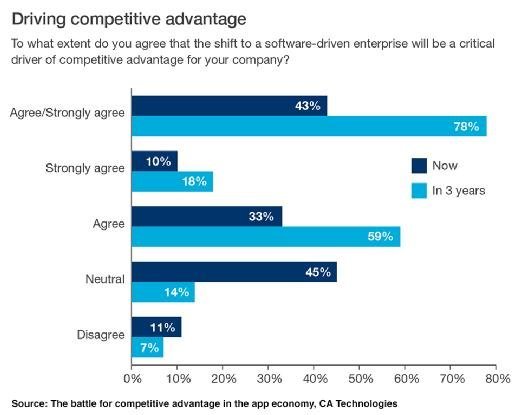 Businesses see the potential of becoming a software-driven enterprise
GE said the software's data analytics has been used to help Whitegate detect operational anomalies, including combustion dynamics and parts degradation, before they become serious issues that could force the plant offline for costly, unplanned repairs.
Phase two of the project will include an operations module for process optimisation and operational excellence, providing key performance indicator-focused analytics to multiple levels of the facility. This phase will provide a pathway to more flexible operation and connect the plant performance better to the real-time marketplace, according to GE.
Ramon Paramio, European general manager for GE's power-generation services business, said: "The Whitegate project's scope establishes a data-driven foundation based on reliability while delivering capabilities that enable the operator to make better business decisions based on real-time operational readiness."
The product uses GE's Predix platform, which the company says provides a connected and secure cloud environment that unifies the flow of data across plant and fleet assets.
Rentokil is another example of an organisation preparing for the application economy. The IT department at Rentokil Initial has delivered coding interfaces to its back-end enterprise resource planning (ERP) system to enable the business to create new so-called systems of engagement applications. It too is looking at business-to-business applications that link directly to customers' facility management systems.
GE Software vice-president Bill Ruh explained to Computer Weekly recently that the company created Predix as a software platform that business units could use as a foundation for their own applications. Similarly, Rentokil hopes that API management via MuleSoft will give business applications direct access to the ERP, which runs the business. Such integration enables an app from an internet-connected device, such as a soap dispenser, to trigger the business process that ultimately leads to it being refilled.
Skills crisis
The Oxford Economics/CA survey found that 40% of respondents plan to acquire technology companies to gain talent, while another 44% are planning to establish technology centres in talent-rich geographies.
At minicab firm Addison-Lee, half its in-house IT team are focused on API management. The company is very technology focused, and has re-engineered its back-end booking system in a way that enables it to be reconfigured easily to cater for the particular needs of a new global contract. In the past, such customisation would have involved bespoke software development, CTO Peter Ingram told Computer Weekly.
More than half of the respondents that participated in the research believed that becoming a software-driven business would have an impact on their hiring strategy in three years. Another 52% said they were developing new skills across their organisations, echoing the emphasis on ownership.
CA Technologies believes that developing software in-house, as opposed to outsourcing, is a feature of the new software-driven environment.
Read more on IT innovation, research and development