Major software companies bamboozle local authorities with audits
Software companies are resorting to audits and complex licensing in a bid to make more money from existing public sector customers
The largest software companies are resorting to audits and complex licensing in a bid to make more money from existing public sector customers.
Price is not always transparent and some suppliers offer discounts ranging from 20% to 98% on the full list price, which can be achieved through negotiation.
At the same time, many local government organisations and universities have been required by their software suppliers to undertake software audits to ensure they comply with the terms and conditions of the licence contracts they purchase.
The untrusted partner: software licence reviews in the public sector study by licensing consultant Cerno warned that major suppliers will often initiate a licence review with the aim of "revenue optimisation", regardless of any damage to the customer relationship.
The report found that 39% of universities were asked for a software audit in the previous 20 months by Oracle, while 206 of the 412 local authorities surveyed (see graph below) said they had received a request for a software audit.
Read more about software contracts
The study noted that according to Oracle's SEC filings, software licence updates and product support is Oracle's highest-margin business unit, operating at a profit margin of 89%.
While cloud-based subscriptions may offer a way for organisations to remain compliant with licensing, Oracle's and SAP's cloud revenues represent only 5% and 6%, respectively, of current turnover.
The Cerno study found that 59% of local authorities were found to be under-licensed, while the figure for universities was 24%.
Robin Fry, co-founder of Cerno and author of the report, said: "A large proportion of IT budgets is spent on software from major suppliers. Local government organisations use massive databases. They try to negotiate on pricing, but the fundamental problem is the opaque nature of licensing."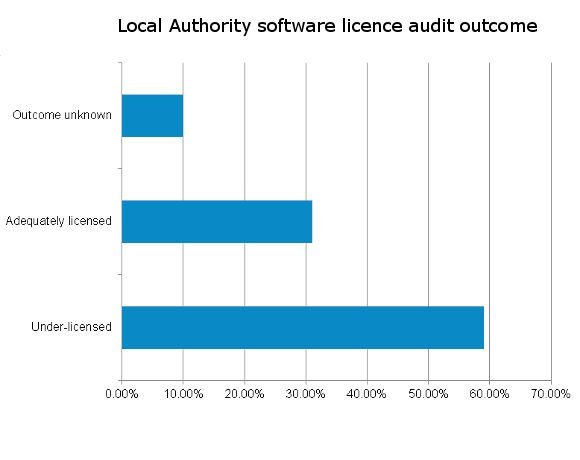 Fry said Oracle's list price varies hugely, and software licences can be discounted by anything from 20% to 98%. This makes negotiating with the supplier unpredictable, he said.
Speaking to Computer Weekly last month, Daniel Hesselink, managing partner at License Consulting, a company that specialises solely in Oracle licensing, argued the case for negotiating licence fees down rather than accepting a settlement if there is a licence discrepancy.
Hesselink said he was involved in negotiations for a city-wide Oracle licence, where the negotiations for compliance were worth hundreds of millions of euros. "We implemented rules in software to ring-fence the core system," he said.
This potentially limited how much Oracle could try to charge for the software. Hesselink added: "We believed our Oracle licence was in compliance and our only correspondence was with Oracle legal. We had a meeting with our legal team and Oracle's legal team and the auditors and we agreed to disagree."
Hesselink's client occasionally gets a call from an Oracle salesperson trying to charge €600m for the software, but, in his experience, Oracle is not prepared to take the city to court.