UK IT spending will outpace rest of Europe in 2014
UK IT budgets will grow by 3.6% in 2014, second only to Germany
Growth in IT spending in the UK is set to outpace average growth across the rest of Europe in 2014 as the global economy continues to recover.
IT budgets in the UK are set to grow by 3.6% this year, compared with an average of 3% for Europe (see Chart 1), a study by Computer Weekly and TechTarget has revealed.
The UK comes second only to Germany, which will see its IT budgets rise by 4.6% this year, the survey of 1,300 European IT professionals found.
The upturn in IT spending comes as IT departments step up their investment in technologies ranging from cloud computing and virtualisation to data analytics (see Chart 2).
"You only have to look at organisations like Jaguar Land Rover, which had a 20% increase in sales last year. You can't accommodate growth like that without spending money on IT," said Ovum analyst Roy Illsley.
Some 81% of UK IT professionals say their IT budgets will increase or remain the same during 2014, according to Computer Weekly's IT priorities research.
And nearly a quarter plan to increase their IT budgets by more than 10% this year, higher than both Germany at 20% and France at 13%.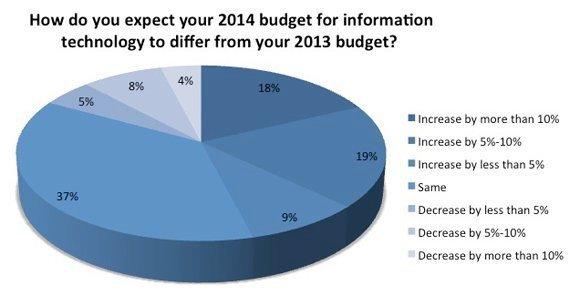 Chart 1: IT budgets across Europe
Impact of recession
The UK, which was among the first countries in Europe to experience the downturn – and among the first to recover – has seen its IT spending pick up over the past three years.
Some 16% of the UK IT professionals surveyed said their companies are now back to normal following the downturn, while 44% say they are recovering slowly.
Only 15% said their organisations are still feeling the effects of the downturn.
Spending drivers
As the economy recovers, some 30% of UK IT professionals (29% Europe) said their priority would be to expand the use of IT to grow their business.
Just over a quarter will concentrate their IT spending in a few strategic areas this year, while 13% plan to maintain service levels with flat budgets (see Chart 3).
The proportion of IT departments planning to reduce IT spending in the UK has fallen from 15% to 10% over the past two years.
Chart 2: Highest profile IT projects across Europe
Cloud computing
Cloud computing will drive an increase in IT spending for 36% of UK organisations this year (31% Europe), both in relative and absolute terms, the research revealed.
Some 25% of UK organisations are planning private cloud initiatives, while 32% plan to buy cloud services from external providers during the year – above the European average of 22%.
Business analytics and big data
The UK is also investing more heavily in big data technology than the rest of Europe, the research found.
Some 33% of UK organisations plan to continue, or to expand, their big data operations, compared with 28% across Europe.
And 35% plan to start a big data programme or to evaluate big data in 2014, compared with 27% for Europe as a whole.

Chart 3: IT spending focus across Europe
Virtualisation
Nearly 50% of organisations in the UK and across Europe plan to invest in server virtualisation this year, as they seek to improve resilience and improve the efficiency of their IT systems.
With the exception of Australia and New Zealand, the UK is further ahead in virtualisation than most other countries, said analyst Roy Illsley.
"The UK has more server virtualisation than France and Germany. However, France has used virtualisation quite early in some industries, and the Nordics are beginning to catch up," he said.
Mobile computing
And mobile technology will be a major theme throughout the year across Europe, reflecting the growing popularity of bring your own device (BYOD) schemes.
Over 40% of IT professionals say their IT departments plan to invest in tablet PC and smartphone technology projects during the year, while nearly 70% plan to issue their employees with more mobile devices (see Chart 4).
Chart 4: Spending on mobile IT across Europe
Windows
Windows migrations feature high up the list of priority projects for organisations in 2014, following Microsoft's decision to end support for Windows XP by April this year.
Some 42% of UK organisations (31% across Europe) plan to migrate to Windows 7 during the next 12 months. Windows 8, however, which is less mature for business applications, is less popular.
This year is likely to be the last big Windows migration as more organisations move their desktops to cloud-based services, which can be run on any operating system.
"People will use a much wider variety of tools to access desktop services," said Illsley.