Open arguments stack up as hybrid cloud takes hold
A lack of cloud standards is causing headaches for IT departments, but the drive for greater interoperability is gaining pace
It is becoming clear that organisational IT environments are heading towards an increasingly hybrid future, at least in the short to medium term.
The Computer Weekly/TechTarget 2014 Priorities Europe report confirms that many companies are deploying a mix of public and private cloud services from various types of provider – as well as using hosted, in-house and legacy systems.
The survey backs up research from the Cloud Industry Forum in October 2013, which found that 70% of UK firms already operate a hybrid IT infrastructure.
According to 2014 IT Priorities research, almost a third of UK companies (32%) plan to use external cloud providers this year for a variety of IT services including infrastructure, storage and disaster recovery.
Respondents also said they were considering working with all sorts of different cloud providers, including software as a service (SaaS) companies, managed service providers, telcos, systems integrators and equipment suppliers – with most citing at least two different types.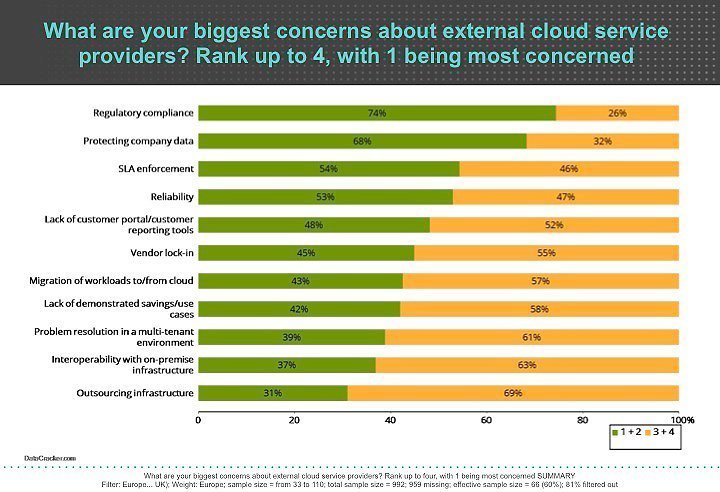 For the most part, this hybrid environment is forming organically as firms respond to changing business needs with the ongoing and piecemeal introduction of new applications and services.
Deciding where to put what depends on the levels of efficiency, scalability, availability, cost, security and transportability required for specific applications, workloads and types of data. This is leading to an increasingly complex sprawl where many organisations are struggling to maintain central oversight and control of their diverse and dispersed IT systems.
The survey found firms have a number of pressing concerns about using third-party clouds. These include regulatory compliance, protection of company data, enforcement of service level agreements (SLAs), lack of reporting capabilities, the difficulty of migrating workloads and avoidance of supplier lock-in.
Are users heading for disillusionment?
The hype and hope of the cloud has always been that it will give organisations the flexibility and agility to manage their IT much more simply and cost-effectively, but clearly we are not there yet.
We're probably going to hit the slough of despond in the middle of the year as people suddenly realise the cloud isn't quite what they expected it to be

Clive Longbottom, Quocirca
Clive Longbottom, service director at analyst Quocirca, predicts 2014 will be the year when the need for clearer thinking about the cloud will finally hit home for both users and suppliers.
"We're probably going to hit the slough of despond in the middle of the year as people suddenly realise this isn't quite what they expected it to be. The long-standing lack of clarity in vendors' cloud messaging, as well as users' confusion around how to move towards it and what's really required, will start to hit home as organisations find they don't have the transportability of workloads they were hoping for, that they're not saving the amount of money they thought they would, and availability across a hybrid cloud environment is not all it's made out to be," he said.
Longbottom said as the reality of these concerns hits home, demand for more openness, interoperability and visibility across diverse clouds will become paramount, which is likely to increase both customer and supplier interest in initiatives such as the open source cloud platform OpenStack.
"We're already seeing some movements on that. Some big vendors [including Rackspace, HP, AT&T and Oracle] are putting their name behind OpenStack. That will start to drive standardisation among clouds," he said.
"The really big guys – such as Google, Amazon Web Services [AWS] and to a lesser extend Microsoft – can afford to undercut the smaller guys going the OpenStack route, but I think many customers will start to look at their options and say: 'We don't want to be over the barrels we keep getting ourselves over. Every time something new comes along we end up going proprietary and it messes us up.'
Once IBM, Dell and others throw their weight behind the white knight of OpenStack, we can have some hope that a lot of the public cloud providers will start to compete on their capabilities rather than on being a different flavour of proprietary."
More on cloud interoperability
Hybrid cloud: Who's in control when public and private clouds collide?
Cloud interoperability and portability remain science fiction
A market in flux
Richard Hall, CEO of independent cloud consultancy CloudOrigin, said that because the market is still in a state of evolutionary flux, it is too early to talk about winners in the cloud standards race.
"My experience working on industry standards bodies and with technology standards in general is that these only take effective hold to the benefit of users once the dust of innovation has settled, and we are still far from that point in the development of cloud infrastructure and network virtualisation. In the interim, standards – open or otherwise – are all too often attempts by vendors to differentiate and lock in customers rather than empower them," he said.
Hall predicts users will continue to choose cloud providers based on the commercial benefits, irrespective of the cloud architecture and standards their providers employ. They will have little input into the development of standards, which will be driven by the providers themselves, he said.
"Increasingly, the innovators offer a managed hybrid offering with respect to a particular application scenario, such as web e-commerce or business intelligence analytics. Few users will see any commercial benefit of creating their own hybrid and trying to keep pace with the rate of innovation and disruption themselves," said Hall.
Standards only take hold when the dust of innovation has settled, and we're still far from that point

Richard Hall, CloudOrigin
"We would also reiterate that the fundamental part of the cloud revolution is the shift to software as a service, with an increasingly small rump of 'on premise' application workloads requiring users to provision any infrastructure," he added.
Hall is also confident the market will adapt organically to meet customers' needs, ironing out many of the difficulties they face today.
"We expect policy-based cloud management and provisioning technologies to continue to evolve and subsume the different lower-level open and commercial offerings as they wax and wane, insulating users," he said.