Tennis analytics add prediction to the game in week of shock defeats
Tennis lags rugby, cricket and football when it comes to the use of technology and analytics. That could be about to change
Rafael Nadal's dramatic first round exit to Steve Darcis, and Roger Federer's second round exit to Sergiy Stakhovsky in the first week of Wimbledon underlines the sheer unpredictability of sport.
Prior to the Nadal game, only an eternal optimist (or a complete fool) would have placed a bet that the world number five would be beaten by the 135th ranked best player in the world, regardless of the fact that the former was still nursing a knee injury.
But what about a machine? If you fed data about the two players into a piece of analytical software, what would it throw up?
When technology giant IBM ran the numbers through SlamTracker – a data-rich application that has been specifically designed for tennis – prior to the game, it suggested that if Darcis won 27% of his first serve return points, he had a 53% chance of taking a set from Nadal. During the game, he actually won 35% of first serve return points.
The app also highlighted the fact that when Nadal wins 57% of second serve return points he clinches sets 90% of the time, yet against Darcis the Spaniard only won 43% of those points. So perhaps the outcome of the game was not as unpredictable as first thought.
More on sports analytics
IBM's sports analytics furrow
Over the past few years, IBM has pioneered the use of analytics in tennis, but at times it has seemed like it's been ploughing a lonely furrow in a game that conversely embraces cutting-edge technology to aid with umpiring decisions and to help television viewers better understand the sport's nuances.
As a result, tennis lags behind other sports, including rugby, cricket and even that famed lumbering Luddite, football, when it comes to the use of technology and analytics.
However, that might be about to change, thanks to a potentially ground-breaking piece of research undertaken by Xinyu Wei and Sridha Sridharan from the Queensland University of Technology, Patrick Lucey from Disney Research Pittsburgh, and Stuart Morgan from the Australian Institute of Sport.
In 2012, armed with ball and playing tracking data from Hawk Eye taken from the Australian Open, the quartet set out to establish how the best tennis players in the world win points.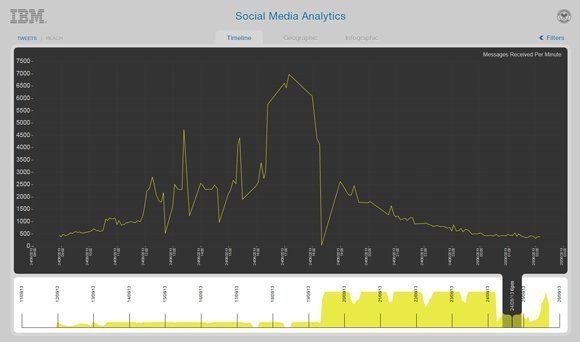 Social media visualisation around the Nadal/Darcis Twitter conversation on 25 June
The outcome of their research was a paper titled Sweet-Spot: Using spatiotemporal data to discover and predict shots in tennis, which was shortlisted for an award at the prestigious MIT Sloan Sports Analytics Conference in March this year.
To crunch the data, the group created a piece of software that established a background model of all tennis matches in the database, with a particular focus on matches involving the top three seeds at the tournament – Rafael Nadal, Roger Federer and Novak Djokovic.
"Then it uses that model to predict what would generally happen in a match if player A played a low sliding backhand across court to player B who was deep behind the baseline," said Stuart Morgan, an analyst in the performance research department at the Australian Institute of Sport. "Our software then refines that background model by learning, point by point, a bit more about how the current match is unfolding.
"Combined, these techniques give us very accurate forecasts about the outcome of individual points. From a coaching point of view, we can then deduce the strengths and weaknesses of specific players, and hopefully, equip players with insights about how other top players have been beaten in the past," he said.
According to Morgan, the database was able to give the research team a "very sophisticated insight" into the things players do to win points.
Tennis can benefit from the long-overdue evolution of analytics
Tennis players are creatures of habit
"Players are creatures of habit, and individual players usually try the same tricks throughout a match, especially if those tricks win points," said Morgan.
"We've learned a lot about the way the best players set up a point for the final killer blow. The best players, such as Djokovic, Federer, [Andy] Murray and Nadal, don't just go out for a random winner – they systematically go about establishing a position of dominance, where they manoeuvre their opponent into a position of weakness. Then, when the time is right, they finish the point with incredible precision," he added.
The research group described this tactical approach as the player's "sweet spot" – the shot that gives them the best chance of hitting an outright winner or causing an error from their opponent. For instance, Federer tends to hit his winners from balls that land closer to the boundary widths of the court, Nadal's winners were typically achieved when hitting to his opponent's left side (the backhand side for right-handed players), and Djokovic tends to stroke winners while his opponent is positioned more to the right-handed forehand.
Although the research provided a level of insight that has not historically been seen in tennis – speaking at a sports analytics conference held in London earlier this year, Karl Cooke, sports science manager at the Lawn Tennis Association, said the work of these academics was "really promising" and suggested a new direction for analytics in tennis – Morgan conceded that the initial piece of work has its limitations.
Social media visualisation around the Nadal/Darcis Twitter conversation on 25 June
For instance, it did not take into account how a player's performance might vary on a different surface – Nadal's behaviour in a match against another base-liner such as Djokovic on a clay court will inevitably differ from his tactics against a skilled serve and volley player such as Federer on grass.
To address some of these shortcomings the group has already done some additional work, adding better insights to improve its modelling of the things that players do throughout a point to manoeuvre their opponents and how much angle they can impart on their ground stroke. They will present their latest findings at the Dagstuhl seminars in Germany next week, an invitation-only meeting aimed at bringing together some of the best computer scientists and the best sports scientists in the world.
Although Morgan said the ultimate aim of the research was to improve the performance of Australian players, he believes the entire sport can benefit from the long-overdue evolution of analytics in tennis. "In my view, the gains to be made by being fitter or stronger are really marginal at this stage in the progression of tennis. The big new frontier is how to make players smarter," he said.
It's a frontier that may well soon be conquered.