Computer Weekly European User Awards for Enterprise Software: Winners
The winners of the Computer Weekly European User Awards for Enterprise Software have been announced. See who made the top spots
Five innovative IT projects were crowned winners of the Computer Weekly European User Awards for Enterprise Software during today's Cloud World Forum at London Olympia.
The Computer Weekly European User Awards for Enterprise Software aim to recognise innovation through the use of enterprise software and information management.
A panel of independent judges viewed entries across five categories: Public Sector Project, Best Technology Innovation, Supplier of the Year, Private Sector Project and Cloud Innovation.
---
The winners are:
---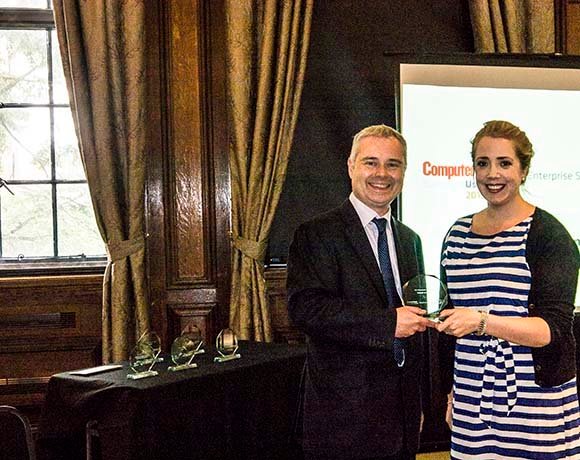 Fiona Halkerston of Johnson King collects the award on Taylor Wimpey's behalf
UK home builder Taylor Wimpey is working with Anaplan to streamline its annual budget forecasting process and to fulfil its long-range financial planning requirements.
The company, which operates 24 regional offices across England, Scotland and Wales, previously relied on a complex suite of Excel spreadsheets to deliver its annual forecasting process. This process was undertaken every October over a labour-intensive six to eight-week period. These forecasts are crucial in enabling the company's management to assess the capability to meet key performance targets over a four-year period.
Anaplan's platform now underpins the control and collection of information from the company's 24 separate business units. The solution enables the teams tasked with generating reports and forecasts to input vast quantities of data in real time, and to easily add or adjust data at any stage in the reporting process.
Taylor Wimpey's forecasting process now generates far more accurate results and is a much simpler process as separate business units based in the company's UK offices are able to collaborate in real time.
Judges' comments:
"The main point would be the efficiency gains and increased capacity for doing new things. It seems to have opened up for what is a traditional 'bricks and mortar' company." – Brian McKenna, business applications editor, Computer Weekly.
Huddle was co-founded by Alastair Mitchell and Andy McLoughlin when they became frustrated with existing enterprise technology's inability to help people work together.
Alastair has grown Huddle to 200 people – spread across London, San Francisco and New York – raised in excess of $40m in funding and seen sales triple year on year. Through his leadership, Huddle is now used by more than 100,000 businesses and government organisations worldwide, including Nasa, the Ministry of Justice, Sega, Kia Motors, Unilever, AKQA and P&G
Huddle is used by 80% of UK central government, including the Cabinet Office and Crown Prosecution Service. Huddle has shown itself to be the leader in government cloud collaboration – it is the third most successful supplier on the framework when measured by value and it secured 14% of the deals in the latest financial year (April 2012-2013).
In 2011, Huddle joined forces with FCO Services to provide an IL3 accredited service, becoming the first software as a service (SaaS) offering to do so.
A true example of a British success story, Huddle is now taking this expertise to the US. It has secured contracts with In-Q-Tel to develop a FISMA-certified instance of Huddle for the US government, starting with the Department of Homeland Security Science and Technology Directorate, and the National Geospatial-Intelligence Agency.
Judges' comments:
"Collaboration across the enterprise has long been a nice objective. Huddle's cloud-based technology, built with the enterprise in mind, seems to have met with success." – Brian McKenna, business applications editor, Computer Weekly.
Toyota's team developed a software solution which improves safety, reduces cost and increases productivity.
Toyota I_Site collects data from the fork-lift truck, transmits the data to a central database using wireless technology and the regular mobile networks – without the need to install software or hardware at customer premises – then allows this data to be analysed by the customer over a web interface. The software solution is deployed worldwide to address material handling issues in a wider perspective than ever before.
To facilitate the data collection and transmission, a black box is installed in each fork-lift integrated into the system. A central server system manages the collected data and allows interaction over a web interface with analytical capabilities. This has been accomplished by using the latest telematics technology combined with modern web design and systems analytics.
More than 10,000 units have been installed. The solution has been made available as a product in FCO Services' IT services catalogue, making it easy to order and simple to deliver. The project has demonstrated strong return on investment, with payback within a few months of deployment.
Judges' comments:
"A seemingly innovative software system that collects data from black boxes on fork-lift trucks; this data is then analysed over a web interface to improve operations." – Brian McKenna, business applications editor, Computer Weekly.
Case studies
Download case studies of the winning projects in other categories.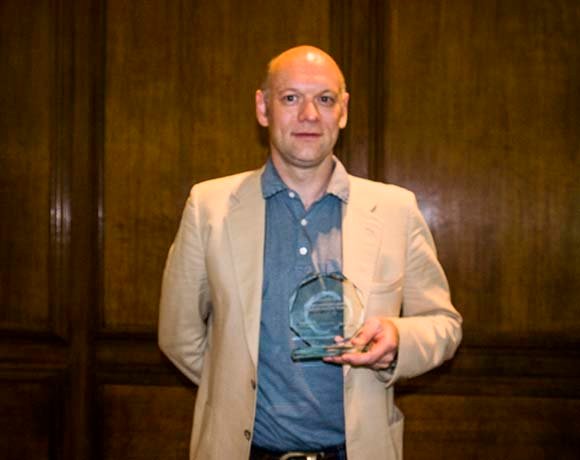 Tom Herbst representing Aintree
With 86,000 emergency admissions every year, 330,000 outpatient visits and 77,000 inpatient day cases – some 4,200 paper files moved daily – the Aintree University Hospital Trust could not guarantee 100% availability, with clinicians complaining that finding information took too long.
Aintree has stopped using paper health records in clinical practice. Instead, it has installed CCube Solutions' electronic document management software (EDMS) and custom portal to provide clinicians a digital version.
This is an "invest to save" initiative, in line with the Government's Quality, Innovation, Productivity and Prevention (QIPP) to improve the quality of care and make £20bn efficiency savings by 2014/2015. £1.5m was spent on software, scanning hardware and services with Aintree, saving £1m annually based on reducing labour, transport and storage costs. Some 282,000 patient files will be scanned, which equates to 45 million pages.
The project's achievements to date:
Around 70% of the files have been scanned. As outpatient case notes are used, on average, 2½ times a year, once a person's file is scanned, the notes are available digitally for subsequent visits.
A 30% space gain in a new £45m building – now used for clinical activities not paper storage – equates to a £13.5m estate benefit, as a whole floor has become available.
Once 100% of paper case notes have been scanned, Aintree will close its records library and paper files will no longer be provided to clinicians.
Headcount has been reduced by 50, resulting in salary cost savings.
Judges' comments:
"We were impressed by Aintree University Hospital NHS Foundation Trust's focus on the benefits, both financial and clinical, of the solution, and impressed by the scale of the public sector projects in general." – George Lawrie, vice-president and principal analyst, application development and delivery, Forrester Research.
"Electronic medical records systems have been a big challenge for NHS IT. This seems to have been a success. Aintree has implemented a system that provides clinicians with navigability through the information. A forms recognition technology has been used to index records automatically. Clinical and management metrics of success are impressive." – Brian McKenna, business applications editor, Computer Weekly.
"Based on the achievements and the quality of the entry, I would select Aintree University Hospital NHS Foundation Trust as the winner." – Bob Tarzey, service director, Quocirca.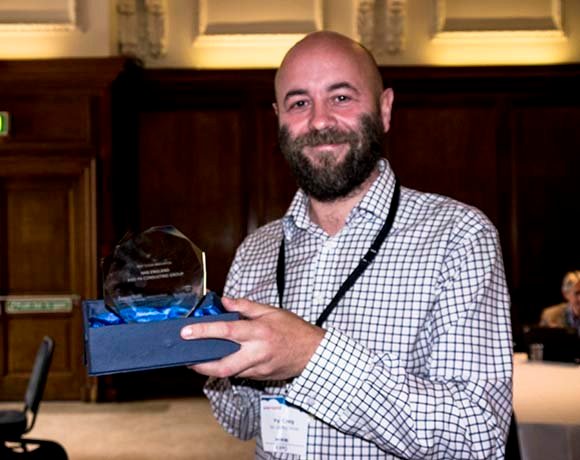 Paul Craig of PA Consulting
NHS England works to improve outcomes for patients by monitoring the effectiveness of commissioning. Every year, it ensures that £100bn of care is delivered effectively.
Consistently monitoring and improving standards of care requires collecting data from thousands of NHS organisations and using them to define standards, increase accountability and ensure any trends or issues are acted on early.
Working with data on this scale has proven to be highly problematic in the past. As a result, anomalies that should have automatically provoked urgent management attention – such as high mortality rates and anomalous trends in care provision – were not acted on in time. To carry out its duties effectively, the NHS England commissioning board needed a single version of the truth that presents measures of success in a consistent and easy-to-use manner.
PA Consulting Group worked with QlikView and Google Enterprise to develop a cloud-based intelligence tool that means NHS England can now analyse its data more effectively.
As a result, it is now easier to monitor the delivery of the NHS Mandate and Constitution across the country and ensure that worrying trends are identified and acted on quickly.
Judges' comments:
"PA demonstrated a keen eye for detecting a problem with very significant economic impact and for addressing it in the simplest and most direct way. We were particularly impressed with the careful quantification of the opportunity and of the realised benefits." – George Lawrie, vice-president and principal analyst, application development and delivery, Forrester Research.
"As significantly decentralised organisations, such as the NHS, continue to adopt ever more sophisticated and productive IT solutions, so the generation of relevant data, and the subsequent ability to act on it, grows. The ability to provide common services across a decentralised organisation like the NHS is commonly quite challenging in relation to the involvement of all the relevant parties whilst managing the cost of a common solution not outweighing its benefit. This entry stood out because through the use of a cost-effective and scalable cloud platform the NHS was able to accumulate data and act on it to increase/improve the quality of patient care across the whole of the UK." – Spencer Izard, research manager, IDC.
"The result of this project is that high mortality rates and anomalies in care provision are being identified and acted on. This delivers a new capability to NHS England. Cloud-based BI is still relatively novel. This particular system was developed collaboratively, in an agile manner, and with frequent user input." – Brian McKenna, business applications editor, Computer Weekly.
In May 2009, Virgin Media selected TOA Technologies' cloud-based ETAdirect mobile workforce management solution to help transform its field workforce and make its vision a reality.
ETAdirect enables Virgin to offer customers shorter appointment wait windows, in some cases down to one hour, and communicate updates to the customer in real time should appointment details change.
Using time-based pattern recognition and predictive analytics, TOA's innovative solution empowers Virgin to ensure that the right field technician arrives at customers' homes, on time, every time. It does this by measuring every activity that happens in the field and creating performance pattern profiles for every mobile worker. It then routes this information through a patented algorithm to predict when appointments will happen and how long they will take, all with an incredibly high degree of accuracy.
Additionally, because ETAdirect is natively built in the cloud and delivered via SaaS, it is flexible, easily adapted to meet the needs of Virgin's business as it continues to evolve, and could be deployed quickly. In just six months, TOA was able to manage a very complicated installation, including merging multiple instances of the billing system into a single view and fully integrating it with an existing mobility solution.
To date, Virgin has achieved:
15% decrease in travel time per job
15% increase in the number of appointments completed each day
18% increase in customer satisfaction ratings
On-time delivery results of 96-98%
Judges' comments:
"We really liked Virgin's approach to transforming." – George Lawrie, vice-president and principal analyst, application development and delivery, Forrester Research.
"Virgin Media's project was impressive: mobile workforce management via TOA Technologies' ETAdirect." – Brian McKenna, business applications editor, Computer Weekly.
---
The Winners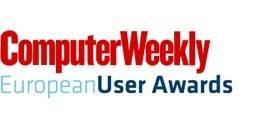 All winners will soon be profiled in full case studies on Computer Weekly and will be offered the opportunity to attend the end-of-year awards ceremony, when the overall winners of each category will be honoured.
Winners received their trophies at a ceremony during Cloud World Forum at London Olympia. Coverage of the ceremony will follow on Computer Weekly.
Didn't have an Enterprise Software entry? The Computer Weekly European User Awards is also looking for innovative datacentre and storage projects.
Full details and deadlines for each awards series can be found on our website.
Read more on Database software