Businesses blow budgets on unused software
Businesses are wasting more than 10% of their software budgets on products that are never used, says IDC
Businesses are wasting more than 10% of their software budgets on products that are never used.
An IDC study, commissioned by licence management firm Flexera, shows that over half of enterprises say 11% or more of their application spend is associated with applications that are underused (shelfware).
According to the survey, 30% of respondents familiar with their companies' software usage rights do not optimise their software estates by reconciling software usage data with product use rights.
Only 17% practice software license optimisation across the entire software estate.
Steve Schmidt, vice-president of corporate development at Flexera Software, said: "People are investing heavily in efficiency-creating technologies like software without really understanding how to ensure that this critical asset is being optimally used. Consequently, an unacceptable proportion of that expenditure is wasted."
If companies refuse to continue paying for shelfware, they may find the supplier will run a full software audit. According to Sean Robinson, managing director of License Dashboard, the software licence management company, these audits can be very disruptive.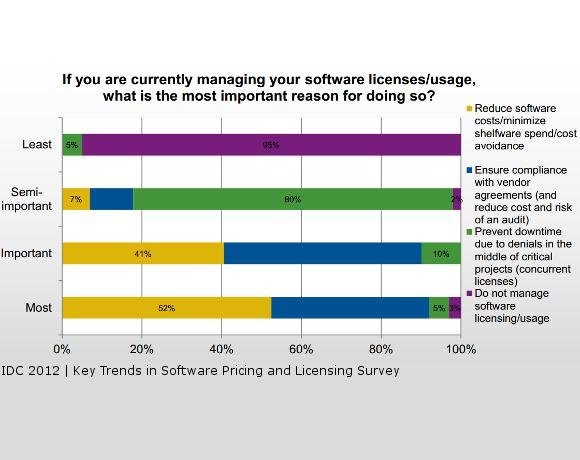 He says most firms are woefully under prepared when a supplier comes knocking, and a major reason for this is a lack of knowledge of how disruptive audits can really be.
More on licensing and IT asset management
Video interview: Stephen Mann, Forrester, on IT asset management
Licensing can become increasingly complex when dealing with one of the larger suppliers.
In a recent Computer Weekly blog post, Martin Prendergast, CEO and co-founder, Concorde Solutions and Board Member, Cloud Industry Forum, warned that IBM had over 1,500 products on offer, available on around 30 licensing metrics.
The situation is made worse because, when a company's products are acquired by IBM, it is unclear whether customers retain their existing licence terms and conditions or transfer to IBM's model.
"Without careful management and analysis of their IT estate, businesses can find themselves operating under altered metrics and contracts without realising. It goes without saying that non-compliance fines can often be the result of this – and large software vendors, as we know, have found a lucrative income stream in such levies," said Prendergast.