CIOs should scrutinise Oracle's Fusion strategy
A Forrester report paints a bleak picture for Oracle's Fusion Applications business, suggesting price hikes could be on the horizon
A report by analysts at Forrester paints a bleak picture of Oracle's applications business, suggesting CIOs should be wary of the supplier's motives to avoid being locked into expensive contracts.
Oracle is going through a major transition from enterprise software provider to a provider of hardware, software and cloud services.
Forrester analysts have taken a close look at how the company's financial results could affect its long-term plans for enterprise software. Even though Oracle is a major supplier of enterprise software, and sells the market-leading database server, its software licensing revenues have not grown in proportion with those of rivals.
In its Oracle's Dilemma: Applications Unlimited report, Forrester compared Oracle's Fusion Applications with SAP's total software product growth rates (adjusted for its acquisition of SuccessFactors).
The report noted that, except in the second quarter of 2012, growth in Oracle's applications business lagged behind growth in SAP's revenues.
When the supplier reported its second quarter 2012 results in December, Oracle president Mark Hurd (pictured) said: "Our cloud offering of HCM [human capital management], CRM [customer relationship management] and ERP [enterprise resource planning] applications, plus the Oracle database and Java platform services, is the strongest and most complete in the industry. Already approaching a $1bn run rate, our cloud business will become much bigger over time."
More on Oracle
Oracle versus SAP for procurement: Supplier information management
Businesses on Oracle could face price hikes
Oracle is a strategic supplier for many, which means IT leaders have long-term plans to standardise on its enterprise product suite. So, do CIOs need to worry if licensing revenue is not growing as fast?
"When Oracle still reported application revenues separately, licence revenue growth slowed from around 18% in the first half of 2011 to 7.5% in the third quarter of 2011, then fell by 11% in the fourth quarter of 2011 and 5.5% in the first quarter of 2012, before rising by 11% in the second quarter of 2012," stated the Forrester report. "Since then, we estimate that its application licence revenues fell by 5% in the third quarter and rose by 11% in the fourth quarter of 2012."
The analysts warned that if a supplier's revenues are flat or declining, there is a risk that it may treat products where licence revenue is not growing as a cash cow. It could milk maintenance revenues and cut back on investment in enhancing and supporting such products, they said.
Some experts are urging CIOs to assess their reliance on Oracle, particularly if they have not bought into Oracle Fusion, the company's long-term enterprise application plan.
A recent freedom of information application by Computer Weekly revealed that Oracle is the biggest enterprise resource planning (ERP) supplier in government.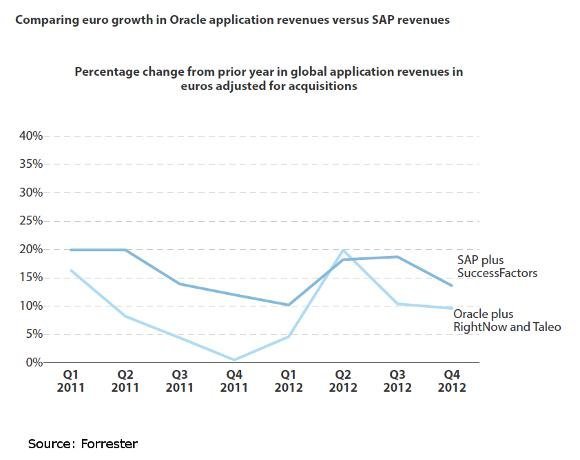 Oracle's application revenue growth has mostly lagged behind SAP's
Oracle software licensing rules still lack clarity
Historically, users have struggled to buy into Oracle's Fusion strategy, according to Ollie Ross, head of research at IT director group The Corporate IT Forum.
"The lack of clarity early on around what Fusion actually was – its roadmap and licensing, and suspicion around its purpose as a vehicle for integrating Oracle products as much as an application strategy – held back early adoption," she said. "Only two years ago, Forum members embarking on Fusion claimed it was presenting them with 'some challenges, not least the availability of experienced resources'."
Ross also pointed out that members of the Corporate IT Forum were unhappy with Oracle's licensing policies. As Computer Weekly has previously reported, some IT departments find the text in Oracle's licensing contract, called Software Investment Guide, "utterly incomprehensible", especially as it relates to virtualisation.
In the past, Oracle has made several major acquisitions, resulting in a multitude of price-list amendments, usage rights and licence metrics, licensing options and extended definitions.
"Members continue to find Oracle's software licensing rules difficult to understand," said Ross. "Virtualisation and cloud computing have made Oracle licensing policies even more complex."
Members continue to find Oracle's software licensing rules difficult to understand

Ollie Ross, The Corporate IT Forum
He said members of the Corporate IT Forum were unhappy that, unlike Microsoft, Oracle did not currently have a software subscription model.
"Members commented that there appeared to be a push to use Oracle VM. However, some expressed the view that it is 'not well supported yet, not stable, nor as effective as VMware'," Ross added.
The Forum's criticism of Oracle licensing is reflected in the Forrester survey, with 43% of respondents citing high licensing costs as their biggest gripe about Oracle applications.
High maintenance costs (38%) and difficult to upgrade (32%) also rated highly when the research participants were asked to rate what they disliked most about Oracle.
Read more on IT supplier relationship management