IT pros pushed to upgrade to XenApp 6.5 by July 2013
IT pros must upgrade to XenApp 6.5 after Citrix announced EoL status prior to pre-v6.5 versions, coinciding with Windows Server 2003 EoL.
IT pros have until July 2013 to upgrade their XenApp software before Citrix moves all versions before version 6.5 to end of life status. The new features in XenApp 6.5 make the move worthwhile, experts say.
Many customers upgrade Citrix Systems Inc.'s XenApp in line with their Windows upgrades. A number of XenApp users still run it on Windows Server 2003, which won't hit end of life (EoL) status until 2014.
"XenApp's change in status implies that product lifecycles are getting shorter and shorter," said Federica Troni, principal analyst at Gartner Inc. "It forces users into an upgrade cycle faster than they would like."
The company's major release lifecycles are generally four and a half years, "which exceeds the industry standard for being enterprise-ready based on Gartner research," and lifecycles are communicated to customers far in advance, a Citrix spokesperson said.
"As an example, the XenApp 4 and XenApp 5 major release EoLs were communicated to customers two years ago, in March 2010 with the release of XenApp 6," said John Fanelli, vice president, product marketing, enterprise desktops and apps at Citrix.
The table below, published on Citrix's website, details the status change for several releases in the XenApp product line.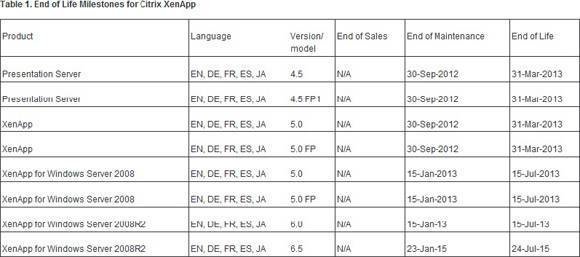 As shown above, some versions of XenApp will go end of life in under a year's time (March 2013) and most customers use pre-6.5 versions. XenApp 6.5 itself will hit end of life status in July 2015.
XenApp 6.5 upgrade
XenApp allows IT pros to virtualise and manage Windows apps, and deliver them as a service to users' devices. It also provides a simpler infrastructure deployment than VMware View and Citrix XenDesktop, said Elias Khnaser, technology officer at Sigma Solutions Inc., a data centre provider in San Antonio, Texas.
IT pros don't like to do upgrades because of time and cost factors. Many customers postpone software upgrades, Khnaser said.
But the features of XenApp 6.5 and its role in desktop virtualisation give users incentive to upgrade, said Nigel Woods, chief technology officer of Intercept IT in London, a virtualisation service provider.
"Citrix has added a lot of value in the new release and for some users, it makes more sense to upgrade," Troni said.
Experts compare XenApp versions 4.5, 5 and 6 to Windows XP and Vista. Windows XP's own EoL is drawing near and even Microsoft will admit that users didn't warm up to Vista, said Andrew Morgan, a desktop virtualisation architect.
Morgan believes XenApp 6 was a bold move by Citrix, releasing a product that was "so clearly unfinished." Version 6 has a significant number of public and private hotfixes registered.
"But XenApp 6.5 is a polished diamond," Morgan said.
XenApp 6.5 offer the best investment overall, Morgan said. "Server-based computing has come on leaps and bounds since Windows Server 2003 and users really like the new look and feel," he said.
Another reason to upgrade is the growing need for more processing power and a scalable architecture, said Roy Illsley, an analyst with Ovum. Users want to replace their host OS to 64-bit to keep up with growing applications and increasing requirements, which is available in v6.5 -- a scalable app delivery tool, he added.
Despite the benefits in XenApp 6.5, upgrades are hard to justify because of the cost, especially in non-revenue-generating departments such as IT. With that, many customers will maintain old versions of XenApp beyond EoL status and move to v6.5 as part of a Windows Server upgrade, said Ovum's Illsley.
Customers that do make the switch can use Citrix's automated tool for simpler migration.

Will you upgrade or will you use EoL products well after their shelf life? Write to us at [email protected].
Read more on Datacentre systems management