Enisa calls for co-ordinated approach to ID card privacy threat
A European IT security agency has called for a co-ordinated strategy for the privacy of personal data in 23 national electronic identity card schemes now...
A European IT security agency has called for a co-ordinated strategy for the privacy of personal data in 23 national electronic identity card schemes now in force or planned across the EU.

Download this free guide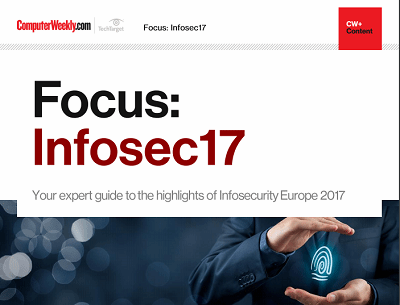 From forensic cyber to encryption: InfoSec17
Security technologist Bruce Schneier's insights and warnings around the regulation of IoT security and forensic cyber psychologist Mary Aiken's comments around the tensions between encryption and state security were the top highlights of the keynote presentations at Infosecurity Europe 2017 in London.
By submitting your personal information, you agree that TechTarget and its partners may contact you regarding relevant content, products and special offers.
You also agree that your personal information may be transferred and processed in the United States, and that you have read and agree to the Terms of Use and the Privacy Policy.
Enisa (the European Network and Information Security Agency) said in a position paper on security features in European eID schemes that they lack a co-ordinated strategy for how to protect the private data stored by the card. "This is both an obstacle to eID interoperability and limits its acceptance by the users," the agency said.
Andrea Pirotti, Enisa's executive director, said, "Privacy is an area where the member states' approaches differ a lot and European eID will not take off unless we get this right. The fundamental human right to privacy must be guaranteed for all European eID card holders."
Enisa found 10 national eID card schemes in force, with 13 in the pipeline. eID cards are currently used mainly for tax declarations and other e-government services, but more commercial applications are emerging, it said.
"In all these applications, the eID card is a gateway to personal information, be it at national or European level," it said. "It is vital to address privacy concerns related to eID, namely the unwanted disclosure of data and subsequent misuse."
The paper provides an overview and comparison of the privacy and protection measures used to reduce 14 risks to personal privacy that result from eID cards. It also lists eight techniques available to address and mitigate these risks.
Einsa has been unable to establish the specifications for seven crucial aspects of electronic identity (eID) cards planned for the UK and other leading EU nations. Its findings come as the House of Lords' constitutional committee prepares to publish its report on citizen surveillance.
The lords are worried that the increased use of CCTV, the NHS electronic patient record, the national ID card, and other data collection, storage and sharing systems affect the basic relationship between the state, business and the citizen.
Technical aspects of eID cards
Interfaces and functionality
Write access
Access control and encryption
Authentications vs. electronic signature
Contactless operation
Personal unique verification
Personal information
Threats to privacy from eID cards
Falsification of content
Eavesdropping
Man-in-the-middle attacks
User signs a bogus document
User authenticates to a bogus server due to misplaced trust in a server
Inappropriate delegation of card
Loss or theft of card8
Physical invasive attacks involving rewiring a circuit on the chip or using probing pins to monitor data flows.
Side-channel attacks
Cryptanalytic attacks
Skimming attacks
Location tracking
Behavioural profiling
Proving the trustworthiness of personal information to a third party
Source: Enisa
Read more on IT risk management