Capgemini to offer clients Amazon's EC2 cloud service
Capgemini will offer Amazon's cloud computing service, EC2 to its US clients as an extension to its outsourcing business.
Capgemini will offer Amazon's cloud computing service, EC2 to its US clients as an extension to its outsourcing business. The services may be available in the UK once Amazon completes its European datacentre in 2009.

Download this free guide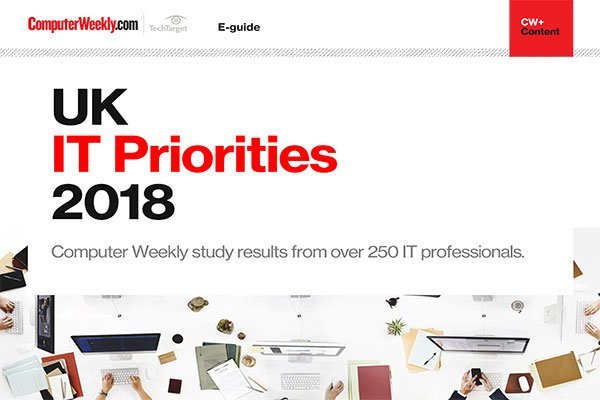 UK IT Priorities 2018 survey results
Download this e-guide to discover the results of our 2018 UK IT Priorities survey, where IT leaders shared with us what they are going to be investing in over the coming 12 months.
Amazon offers various levels of computing capacity as cloud-based services, allowing users to run anything from a single processor 32-bit application up to complex 64-bit workloads. Costs range from $0.10 per hour for a single Linux processor to $1.20 per hour for an extra large Windows application.
Capgemini hopes to use the Amazon service to offer its outsourcing clients a lower cost approach to pilot and run certain IT projects. Andrew Gough, SaaS business development manager at Capgemini, said, "Every business has a project that never surfaces because 80% of an IT budget goes on maintenance.
"For a minimal investment [using cloud computing] it is possible to prove the business case for an IT project, without the need to buy expensive hardware and software licences."
Capgemini vice-president Richard Payling said, "We want to allow our clients to invest in new areas of technology at lower cost. At the moment we are looking at what is possible. We know we can offer Microsoft SharePoint, Oracle and application development in the [Amazon] cloud."
Although businesses can buy cloud computing services like Amazon EC2 directly, Capgemini has established centres of excellence with internal skills and services, which extends existing outsourcing contracts into the cloud.
Initially, the service will only be available in the US, until Amazon builds European datacentres. Payling said, "From our experience offering a Google Apps service, businesses are uncomfortable putting data in a global cloud."
He expected European users who are concerned about the differences between European and US data protection legislation to delay trying the Amazon cloud until early next year, when Amazon completes it European datacentre.
However, he said certain applications like financial modelling, which requires high levels of computational power for a short duration, are generally not regarded as sensitive data, and so could run on Amazon EC2 now.
Read more on IT outsourcing