Government call to business for emergency partnerships
Government has appealed to business to help expand its emergency co-ordination initiatives beyond utilities into the corporate world.
Government has appealed to business to help expand its emergency co-ordination initiatives beyond utilities into the corporate world.
Bruce Mann, director of the Civil Contingencies Secretariat, made the call at the opening session of the two-day Business Continuity Expo that kicked off in London today.

Download this free guide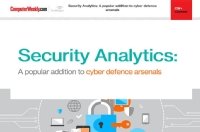 How to improve your cyber security with security analytics
Download this e-guide to read how many firms are looking to security analytics to keep abreast of the ever-evolving world of cyber threats. With traditional approaches to cyber security proving less effective against increasingly sophisticated and automated cyber-attacks, security analytics may well be your knight in shining armour.
Bruce Mann said the government was to publish a national risk register later this year to encourage business and local communities to be better prepared and co-ordinated for emergencies.
Mann said experience had shown that a co-ordinated multi-agency approach was the most effective way of dealing with emergency situations.
He said one key characteristic of resiliency in any organisation was its understanding that risk management was a shared activity.
"A whole range of actors need to be brought together in adopting a risk view [of an incident] to decide the way forward," he said.
Brett Lovegrove, head of counter terrorism for City of London Police, endorsed Mann's view and praised the government for its leadership in countering the terror threat.
Brett Lovegrove said the national resilience committee, the London regional resilience forum and its 17 sub-groups were "all about working together."
Lovegrove said effective partnerships aimed at ensuring resiliency should typically cross the divide between public and private organisations to create a shared vision through understanding each other's business and achieving a high level of trust and confidence.
"Understanding [across any organisation] is mission critical to ensure everyone moves together," he said.
Gerald Corbett, chairman of SSL International, who was chief executive at the time of the rail crashes at Paddington station in 1999 and Hatfield in 2000, picked up the theme of leadership and concerted effort.
Gerald Corbett said one of the biggest lessons learned was that in a crisis, leadership "must speak up, be seen, and communicate".
Corbett said in both incidents, although he was co-ordinating his piece, there was no single authority to provide an overall co-ordination of what all the stakeholders were doing and saying.
"Response to a crisis needs co-ordination," he said.
Corbett said he was pleased to see the railways were now less fragmented and that Network Rail appeared to have coordinating mechanisms in place.
Read more on IT risk management