Novell and EFF form alliance to reform software patents
Novell and the Electronic Frontier Foundation (EFF) are teaming up to work on reforms to software patents worldwide.
Novell and the Electronic Frontier Foundation (EFF) are teaming up to work on reforms to software patents worldwide.
"It is increasingly obvious that software patents are not a meaningful measure of innovation," said Jeff Jaffe, executive vice-president and chief technology officer at Novell.

Download this free guide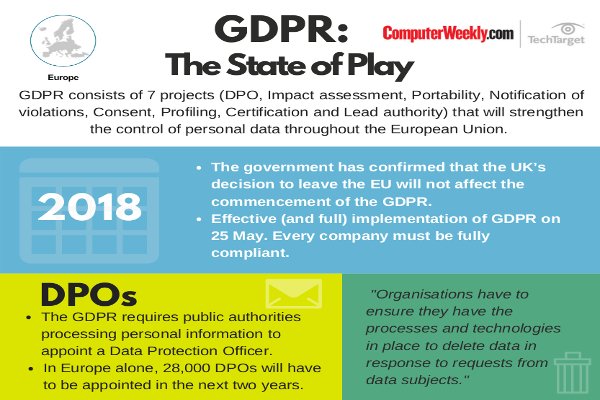 Infographic: GDPR - The State of Play
Get the latest information on how GDPR is going to affect your business and how to avoid any unwanted fines with this simple infographic.
By submitting your personal information, you agree that TechTarget and its partners may contact you regarding relevant content, products and special offers.
You also agree that your personal information may be transferred and processed in the United States, and that you have read and agree to the Terms of Use and the Privacy Policy.
"As a long-time innovator in the industry and a holder of many significant patents, we understand the rationale behind the patent system in general. But we believe that software patent system reform is necessary to promote software innovation going forward."
Novell and the EFF will work to lobby governments and national and international organisations to develop legislation and policies around patents designed to promote innovation.
A key area of focus will be the World Intellectual Property Organisation (WIPO), where member governments of the United Nations meet to coordinate positions on intellectual property issues.
Given the ease with which software ideas and code cross borders, a global approach to the issue is required, said the lobbying partners.
In addition, Novell will contribute "significant" resources to the EFF's ongoing Patent Busting project.
Launched in 2004, the project is designed to attack patents that impose particularly heavy burdens on software developers and internet users, by identifying prior art that can be used to invalidate those patents and by pursuing invalidation of those patents through re-examination efforts.
EFF executive director Shari Steele said, "The support of Novell will be a great boon to our efforts to rid the industry of innovation-killing patents. We hope Novell's example encourages other software vendors to join the effort."
The EFF is a leading civil liberties organisation working to protect rights in the digital world. Founded in 1990, it encourages and challenges industry and government to support free expression and privacy online.
EC tries again on Europe-wide software patents >>
EFF lists 10 IT patents that endanger internet freedom >>
Microsoft and Novell at odds over software patents >>
Comment on this article: computer.weekly@rbi.co.uk
Read more on IT legislation and regulation