NEC pushes bar on SAN scalability
With the launch of its D-Series storage systems, NEC is challenging the incumbent players on nondisruptive SAN scalability.
NEC of America, is betting advancements in nondisruptive storage area network (SAN) scalability will help the company carve out more market share in North America where it's still a relatively unknown player.

NEC's D-Series storage systems, launched this week, scale from 219 GB to 1.152 petabytes (PB) -- via upgrades that can be made while the systems remain online, the company claims. The D-Series also scales from 2 GB to 128 GB of cache, from four to sixty-four 4 gigabytes per second (GBps) Fibre Channel ports, and from three to 1,156 disk drives. It supports Fibre Channel on the front end, and SAS and SATA drives on the back end.

Download this free guide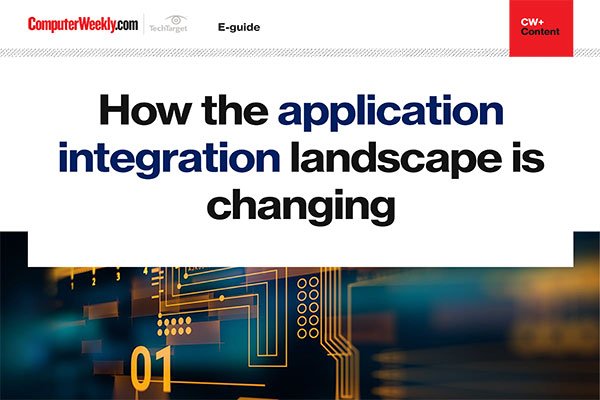 8 ways in which the application integration lanscape is evolving
We take a look at how technologies like Distributed Computing and the Common Object Model have been refined into web services, service-oriented architecture and composable applications and microservices.

By submitting your personal information, you agree that TechTarget and its partners may contact you regarding relevant content, products and special offers.

You also agree that your personal information may be transferred and processed in the United States, and that you have read and agree to the Terms of Use and the Privacy Policy.

This scalability from a very low entry point to a large configuration in a single footprint is what differentiates NEC from its competition, according to Brad Nisbet, senior analyst of storage systems at IDC. "EMC and others have more of a defined separation between their midtier and high-end systems … Clariion vs. DMX from EMC; DS4000 and DS8000 from IBM," he said. "Some users might be squeamish at the idea of one product that can do it all … many are comfortable knowing that these products over here are for high-end apps and these over here are for low-end and midtier apps, but the industry is moving in the direction of ultimate scalability," he said.

NEC has built-in redundancy features to the D-Series for users that require it. The product is available in five models. The D8-1010, D8-1020 and D8-1040 offer nondisruptive upgrades, while the D1-10 and D3-10 require offline upgrades. All systems support RAID Triple Mirror (RAID-TM) in the event of two disk drive failures, as well as RAID-6 along with double-mirrored cache.

John Oakes, vice president of technology at Revenue Management Solutions, a statistical modeling company in the restaurant and hospitality industry, uses NEC's older S-Series storage, introduced a year ago. Oakes bought a 10 terabyte (TB) S-Series in Oct. 2006, instead of buying a new SAN-attached Network Appliance Inc. (NetApp) filer. Revenue Management Solutions uses NEC's Itanium servers to run its databases, and when it came to upgrading to SQL 2005, the company realized it needed more capacity, as well as processing. "NEC pushed us to look at its storage," Oakes said.

At the time, NetApp's filers were still supporting 2 Gbit Fibre Channel where NEC supported 4 Gbit, but more importantly, Oakes had been disappointed with NetApp's claims about data in-place upgrades. "You are supposed to be able to swap out drives, but in practice it's not the advantage they said … we would have been better off buying a whole new filer instead of trying to do the swap out," Oakes said. When NEC approached the company with its storage systems, Oakes was ready to take a look. "We've been very happy with their technology."

One limitation he sees, still not addressed in the new D-Series systems, is support for iSCSI. "We have lots of systems we'd like to connect to the SAN, but they are not worth the Fibre infrastructure." Specifically, Revenue Management Solutions has Web servers and Exchange servers that failover and require shared storage but only need a gigabit connection. NEC said iSCSI is on the roadmap but would not disclose when it will be available.

Pricing for the D-Series starts at $15,000 for the D1-10, $26,000 for the D3-10 and for the D8-Series prices range from $43,000 to $153,000. Systems will not be available until the end of the summer.

NEC has its work cut out driving its market share in North America. "It's going to be a long, slow road," Nisbet said. IDC has not yet begun to track NEC's shipments in North America as the numbers are too small. "It's getting there," Nisbet said.
Read more on Integration software and middleware