Weekly compilation of storage news: key acquisitions
Iron Mountain announces it will acquire records management rival ArchivesOne, as well as companies in Italy and Germany; NetGear snaps up NAS maker Infrant Technologies.
Iron Mountain makes records management acquisitions
Iron Mountain announced on its earnings call this week that it intends to acquire the privately held ArchivesOne, a records management company which claims more than 8,500 customers in vertical markets, including professional services, healthcare, legal and finance, as well as 31 facilities located in 10 states. Iron Mountain also announced it has acquired overseas records management firms Societa Italiana Archivi s.p.a. in Italy and Gesellschaft fur beleglose Dokumentenbearbeitung gmbh (GbD) in Germany. Financial terms of the deals were not disclosed.

Download this free guide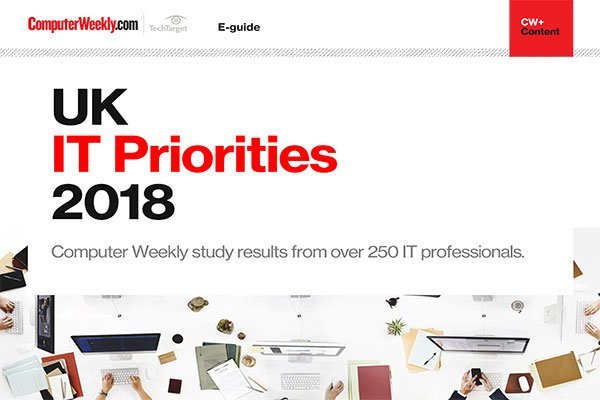 UK IT Priorities 2018 survey results
Download this e-guide to discover the results of our 2018 UK IT Priorities survey, where IT leaders shared with us what they are going to be investing in over the coming 12 months.

By submitting your personal information, you agree that TechTarget and its partners may contact you regarding relevant content, products and special offers.

You also agree that your personal information may be transferred and processed in the United States, and that you have read and agree to the Terms of Use and the Privacy Policy.

Iron Mountain chairman and CEO promised future acquisitions are to follow for the company, which is trying to change its core business from tape vaulting to online-hosted data and records management.

NetGear to acquire Infrant Technologies
NetGear announced it plans to acquire privately held Infrant Technologies for $60 million in cash over the next three years if specific revenue targets are reached. Infrant, based in Fremont, Calif., makes NAS boxes and RAID arrays aimed at the consumer, small business and home office markets.

QLogic profit falls 43%
QLogic reported fiscal Q4 net income of $18.4 million, down from $32.5 million in the same quarter of the previous year. The company said higher than expected engineering, marketing and stock option expenses; gross revenues rose 12.7% to $147.1 million.

EMC updates PowerPath with migration plugin
EMC announced an update to its high availability (HA) PowerPath software, a plugin called EMC PowerPath Migration Enabler software, which keeps arrays in sync during Open Replicator operations and "encapsulates" virtualized volumes on the Invista platform during data migrations. EMC also announced the 500,000th license for PowerPath since its introduction in 1998, which was bought by Starwood Hotels & Resorts Worldwide.

Long Block Data sector standard finalized
The International Disk Drive, Equipment and Materials Association (IDEMA) announced that its workgroup has finalized the definition of the Long Block Data (LBD) sector standard and is releasing it to hardware and software developers. The new standard is meant to replace the 30-year-old standard of 512 bytes per disk-drive sector with 4,096 bytes. According to IDEMA, larger blocks will add reliability to disk drives as data sets and drive capacities grow, add less overhead to data transfer, reduce format time and require shorter periods to scan and defragment disks.

Other World Computing announces compact 1 TB drives
Other World Computing (OWC) announced the availability of a 1 terabyte (TB) Quad Interface single-drive product, the OWC Mercury Elite-AL Pro "Quad Interface" 1.0 TB external drive solution. The product uses a single 1 TB drive platter rather than pooling capacity on two platters within the drive enclosure and is available for $599 manufacturer's suggested retail price (MSRP).

GFI introduces free online storage device scanner
Data security software maker GFI Software announced EndPointScan, a free online service that allows users to check which devices are or have been connected to computers on its networks and by whom. The service is meant for environments in which unauthorized attachment of portable storage devices poses a security or compliance risk.

HP announces data retention system for telecoms
Hewlett-Packard (HP) announced Data Retention and Guardian ONline (DRAGON), a product bundle that includes a multitier data archive, a search and retrieval engine, prioritization intelligence and data security features aimed at European telecoms now subject to European Union laws requiring them to keep data online and searchable for law enforcement agencies. U.S. telecoms may soon face similar compliance requirements if similar legislation proposed this year in Congress, the SAFETY Act, is passed.

City of Overland Park deploys Revinetix for backup
Revinetix announced that Kansas' second-largest city, the City of Overland Park, has installed two 15 TB Revinetix Sentio 4000 backup appliances. The city's network administrator, Randy Oerhle, said in a press release that the Revenetix appliance was less expensive than backup products from EMC, CommVault, Veritas and "associated VTLs," and that a move from tape to disk-based backup reduced the city's backup window from 24 hours to between five and six hours.

Helsana deploys Brocade directors
Swiss healthcare insurance company Helsana, already a Brocade customer, intends to use Brocade's 48000 directors for the expansion of mainframe and open systems storage at two data centers, according to a press release.

Onaro updates performance management software
Storage monitoring software maker Onaro announced the immediate availability of SANscreen Application Insight Manager (AIM) 2.0, formerly named Performance Insight. AIM now allows users to correlate the traffic workload on SAN ports with applications and their data paths.

FilesAnywhere updates online storage service
Web backup company FilesAnywhere announced new storage plans today for its online file storage service. A 5 GB WebAdvanced storage plan is now available for $8.95 per month with unlimited uploads and downloads. New high-capacity storage plans ranging from 100 GB to 500 GB were also introduced.

StoneFly adds boot from SAN
Dynamic Network Factory (DNF) subsidiary StoneFly announced that all new StoneFly IP SANs equipped with the newly released StoneFly StoneFusion 6.0 Intelligent Network Platform can be used with emBoot's boot-from-SAN software for Windows and Linux systems.

IBM OEMs AvePoint for SharePoint backup
IBM announced it will integrate DocAve SharePoint backup software from AvePoint Inc. into its Tivoli Storage Manager (TSM) backup product. The product includes support for both 2003 and 2007 versions of SharePoint, as well as item and site-level backups of SharePoint files.

Spectra Logic announces LTO-4, free key management
Spectra Logic announced its support for the new LTO-4 format in its T50, T120 and T950 tape libraries. Spectra Logic also announced it will be offering BlueScale Encryption's key management free for LTO-4 encryption keys.
Read more on IT for small and medium-sized enterprises (SME)