Your shout: Healthcare investment, NHS e-mail, NHS suppliers
Computer Weekly readers have their say
Computer Weekly readers have their say
National versus local healthcare investment
Name and address supplied
I was recently privy to conversations between healthcare professionals at Ashford and St Peters Hospitals NHS Trust about the new £2.5m Picture Archiving and Communications Systems (Pacs) procurement under the Connecting for Health contract. I would be very pleased to learn that I have misunderstood the point of the conversation, but I suspect I have not.

Download this free guide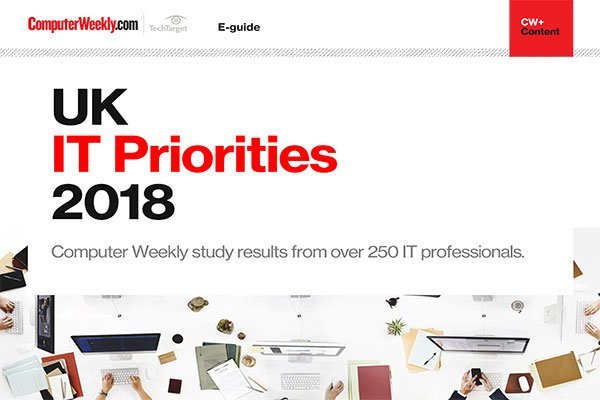 UK IT Priorities 2018 survey results
Download this e-guide to discover the results of our 2018 UK IT Priorities survey, where IT leaders shared with us what they are going to be investing in over the coming 12 months.
By submitting your personal information, you agree that TechTarget and its partners may contact you regarding relevant content, products and special offers.
You also agree that your personal information may be transferred and processed in the United States, and that you have read and agree to the Terms of Use and the Privacy Policy.
Although this investment in the online storage and access of diagnostic images is undoubtedly of benefit and delivers appreciable staff savings, it is not self-financing and seems to be an example of the IT tail wagging the clinical process dog.
It is well known in the trust that the clinicians are required to continue to make use of much obsolescent radiology/imaging equipment that is well over 10 years old. It is said that some clinicians are very uncomfortable with the quality of images produced, but they see little prospect of this ageing equipment being replaced in the foreseeable future, particularly given the funding required for the Pacs purchase. It is understood that the trust had identified a lower-cost Pacs solution, but was forced to take the more costly Connecting for Health approach under the terms of the national programme.
Historically, IT investment in the NHS has always rated a low priority against clinical facilities and equipment, and there is a genuine dilemma for decision makers. The funding earmarked for Connecting for Health is welcome, but it would be a mistake if clinical priorities were ignored in the rush to meet contractual obligations.
E-mail system does not address location issue
Name and address supplied
Following your article about the take up of the new Contact e-mail service in the NHS (Computer Weekly, 4 October), I thought you could consider a few points about the low take up of the service.
The first e-mail system run by BT Syntegra was a major step forward in confidentiality of information over the previous method - fax. Despite the costs of setting up e-mail servers, the benefits gained far outweighed them. The only downside being that when organisations used personal addresses there was no guarantee that the information would be acted on immediately after it arrived due to holidays, part-time working and sickness. Once the organisation had been persuaded to use a "reception" address for e-mail (the equivalent of the post room), the problem was overcome.
With the arrival of the EDS system and the subsequent one from Cable & Wireless, there is no way of knowing where the person is that you are sending the e-mail to. As an example, an e-mail sent to john.smith@nhs. net may be quite correct for a time, but if John Smith is a practice manager in a GP practice and he changes jobs to work for another practice, how does the sender know? And if he still sends his e-mails to john.smith@ nhs.net, he could be sending patient information or practice finance information to the wrong place.
Similarly, if patient referrals are being sent to a clinician at a hospital and that person changes jobs, how does the sender know? Information intended for a clinician in a hospital in the North of England could finish up at a hospital in the South East. That is the main problem with the system - the e-mail address gives no idea of location.
A better solution would be to have local community e-mail servers, as more than 90% of e-mails are local, and most are within the same building.
If we move house, we change our address so that all our friends and colleagues know where we are, why not do that with the e-mail addresses related to our employment?
Niche suppliers have much to offer NHS IT
Tom Rothwell
Managing director, Medisec Software
I read with interest your coverage about NHS plans to re-engage with "existing suppliers" and deploy some standalone technologies (Computer Weekly, 27 September).
As a director of one of the many small, specialist IT companies behind customised local solutions, I am acutely aware of how damaging delays in the introduction of the national programme for IT in the NHS have been for all the stakeholders in the health community.
Like many NHS-focused small and medium-sized enterprises, we support the objectives of the national programme for IT but have been bemused by the stance taken in relation to suppliers like ourselves. Your article reflects a healthy injection of pragmatism.
Specialist suppliers might not have all the answers, but they have at least already been through the process. It has always seemed to us wasteful not to use the best of what has already been implemented and proven, and at the same time, introduce unnecessary risk into the equation.
Instead of waiting for the major players to catch up and re-invent the wheel, the specialist operators could help take the national providers up to the baseline quicker and fuel faster change, while the reference solutions are brought to full steam. After all, quicker solutions would mean an earlier release of funds, producing the best system for all parties involved.
Communicating the meaning of the changes signalled in your article in practical terms is now essential. Richard Granger, director general of NHS IT, is telling trusts that they should not be cutting their IT spending because of Connecting for Health, but many are still confused over what falls outside of the programme - and what they will have to pay for.
Effective communication has not been a trademark of the programme to date. It would be interesting to know how this will be addressed. This will enable SMEs with proven systems to contribute effectively to the aims of the programme. Dare I say, like a healthy market should operate?
Smaller niche players may have a proven system, but limited resources to perform large-volume implementation. Might the most progressive solution for improving patient care be to introduce some joined-up thinking, using both national programme resources and proven niche technology?
Read more on IT for small and medium-sized enterprises (SME)