Banks lag behind shops on chip and pin
Banks are lagging behind the retail industry in the roll-out of chip and Pin, despite putting considerable pressure on retailers...
Banks are lagging behind the retail industry in the roll-out of chip and pin, despite putting considerable pressure on retailers to adopt the technology.

Download this free guide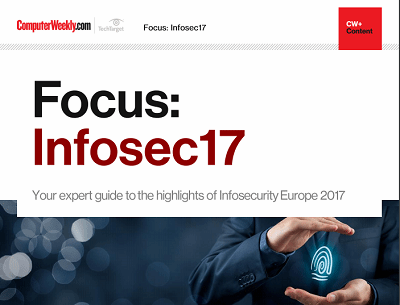 From forensic cyber to encryption: InfoSec17
Security technologist Bruce Schneier's insights and warnings around the regulation of IoT security and forensic cyber psychologist Mary Aiken's comments around the tensions between encryption and state security were the top highlights of the keynote presentations at Infosecurity Europe 2017 in London.
By submitting your personal information, you agree that TechTarget and its partners may contact you regarding relevant content, products and special offers.
You also agree that your personal information may be transferred and processed in the United States, and that you have read and agree to the Terms of Use and the Privacy Policy.
More than a third of UK cardholders have yet to receive chip and pin-enabled cards, according to the Association for Payment Clearing Services (Apacs).
Banks need to issue 40 million more chip and in cards by the end of the year to meet Apacs' own target of achieving 95% roll-out across the UK.
The card issuers mandated the roll-out of chip and pin card readers by 1 January 2005. After this date retailers not using the technology became liable for card fraud, not banks.
But some retailers have struggled to justify the expense of equipping stores with chip and pin readers. The systems reduce fraud losses by the banks, but there is little direct benefit for the retail industry unless banks reduce their charges, said Andy Billington, IT director at high street retailer Burberry.
Burberry has not implemented chip and pin yet and Billington said the risk of card fraud to Burberry was relatively small.
A spokeswoman for Apacs said the reason for the slow roll-out of new cards was down to the sheer scale of the project, and banks were still committed to chip and pin. She said, "By the end of this year we hope to have 95% of all credit and debit cards enabled. We are still in the early stages of the project."
The British Retail Consortium said, "The number of customers using chip and pin will increase and the number of retailers implementing the technology will continue to increase."
Read more on IT risk management