AOL upgrades with security tools
America Online subscribers will receive a raft of new and enhanced security services as part of their standard package with the...
America Online subscribers will receive a raft of new and enhanced security services as part of their standard package with the launch of AOL 9.0 Security Edition, the latest upgrade of the company's fee-based, consumer-focused online service.

Download this free guide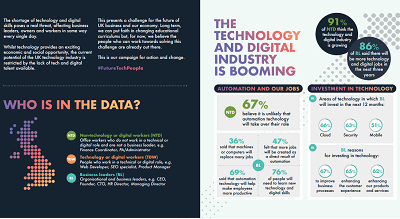 Infographic: How to future-proof UK technology
There is no doubt that the technology industry is booming right now, bringing with it exciting social and economic opportunities. However, there is a real fear that the UK industry may be stunted due to the lack of talent available. This e-guide helps to break down the future fears and expectations of dozens of business leaders and tech workers.
Last month, AOL announced that AOL 9.0 Security Edition will feature McAfee Virus Scan Online, but that was only one of several major security enhancements to the service.
AOL 9.0 Security Edition will also feature spyware protection, instant-messaging spam blocking, simplified e-mail spam filtering, a personal firewall, pop-up ad blocking, enhanced parental controls and a new feature to alert users to suspicious credit card or bank account activity.
AOL subscribers will be able to download AOL 9.0 Security Edition from within the online service's "Keyword" interface by typing in the word "upgrade", or from www.aol.com.
Although bundling all these security features at no additional charge is an aggressive move on AOL's part and one that subscribers will appreciate, it probably will not do much to stop the subscriber exodus affecting the company, said David Card, a Jupiter Research analyst.
"This fits in with their strategy because it's part of their overall mission: to make the internet a safe place for its subscribers. It adds value to its subscription packages, but will it be enough to stop subscriber erosion? Probably not," Card said.
AOL offers several subscription packages. Among the plans, subscribers can buy the online service and unlimited dial-up access for $23.90 (£12.90) a month or pay $14.95 a month for the service and access it over another provider's broadband connection.
AOL reported earlier this month that, as of the end of September, it had 22.7 million subscribers in the US, down 646,000 from the prior quarter and down two million from the third quarter of 2003.
However, AOL is hoping that AOL 9.0 Security Edition will attract new members by offering them a simple, automated way of protecting themselves from a wide variety of online threats, saving them the expense and hassle of acquiring and updating the needed pieces of security software themselves, said Kerry Parkins, director of product marketing at AOL.
"We saw an opportunity to provide this all-in-one turnkey solution," she said.
AOL 9.0 Security Edition also features a console-type interface that lists the service's security tools and indicates which are enabled and when they were last run.
Juan Carlos Perez writes for IDG News Service