Resource abuse rises
Up to 20% of all e-mail being received by corporate networks is being sent from web mail addresses, such as those offered by...
Up to 20% of all e-mail being received by corporate networks is being sent from web mail addresses, such as those offered by Hotmail, Yahoo or Wanadoo, and is most likely for personal, non work-related reasons, claimed e-mail management specialist Email Systems.

Download this free guide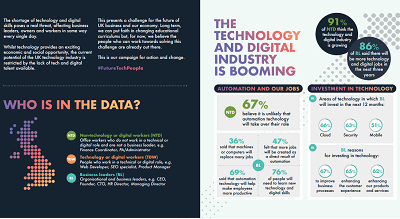 Infographic: How to future-proof UK technology
There is no doubt that the technology industry is booming right now, bringing with it exciting social and economic opportunities. However, there is a real fear that the UK industry may be stunted due to the lack of talent available. This e-guide helps to break down the future fears and expectations of dozens of business leaders and tech workers.
Similarly, approximately 35% of all e-mail traffic outbound from corporate networks is being directed to web mail e-mail addresses. Email Systems said the statistics highlight a significant and two-fold risk to businesses.
First, that the abuse of corporate e-mail for personal reasons represents a significant drain on employee time and diminishes corporate resources in terms of network bandwidth.
Second, that many employees are using personal web mail addresses to either distribute sensitive information to non-legitimate sources or to receive and store sensitive corporate documents for personal use at a later date.
Neil Hammerton, managing director of Email Systems, said, "Although many businesses understandably prefer not to take a hard-line approach in terms of limiting personal employee e-mail, this unfortunately leaves the path open for some employees to simply seize highly valuable corporate intellectual property for personal reasons. The impact of this theft is potentially enormous and cannot be overstated."
But, he added, "It is true that a small percentage of this traffic to and from web mail may also be for legitimate reasons, such as a back up address if a corporate e-mail address is not working, for instance.
"However, with the correct e-mail management system in place it becomes immediately apparent whether a user is abusing the system or simply sending e-mail that was unable to be sent via the usual, legitimate channels."
Email Systems monitors the flow of e-mail traffic into and out of UK businesses of all sizes and has developed a content management module for their use.
For more news on managed applications click here