Presidential candidate Kerry promises tax breaks to stop offshoring
The US should close tax loopholes that provide incentives to companies that want to ship jobs to other countries, provide its...
The US should close tax loopholes that provide incentives to companies that want to ship jobs to other countries, provide its military with the most advanced technology, while also focusing on security, said democratic presidential nominee John Kerry.

Download this free guide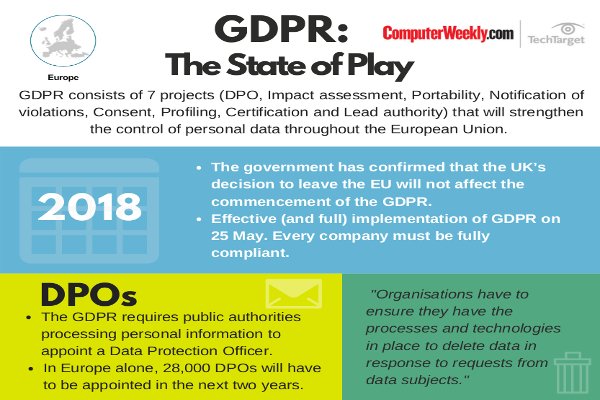 Infographic: GDPR - The State of Play
Get the latest information on how GDPR is going to affect your business and how to avoid any unwanted fines with this simple infographic.
Many democrats and civil liberties groups have argued that US rights have been severely eroded under the Bush administration, which contends that it is doing what it must to keep terrorists at bay and protect the nation.
"My fellow Americans, this is the most important election of our lifetime," Kerry said at the Democration National Convention in Boston.
"The stakes are high. We are a nation at war - a global war on terror against an enemy unlike any we have ever known before. And here at home, wages are falling, health care costs are rising, and our great middle class is shrinking. People are working weekends, two jobs, three jobs, and they're still not getting ahead."
As US workers toil ever more, they also increasingly face the prospect of losing their jobs as companies move to other countries, Kerry said, addressing outsourcing as one of the first issues in his speech.
"We're told outsourcing jobs is good for America. We're told that new jobs that pay $9,000 (£5,000) less than the jobs that have been lost is the best we can do," Kerry said. "They say this is the best economy we've ever had. And they say anyone who thinks otherwise is a pessimist. Well, here is our answer: There is nothing more pessimistic than saying America can't do better."
As part of his economic plan, Kerry called for closing tax loopholes "that reward companies for shipping our jobs overseas. Instead, we will reward companies that create and keep good-paying jobs right where they belong - in the good old USA. We value an America that exports products, not jobs - and we believe American workers should never have to subsidise the loss of their own job."
If he is elected, Kerry pledged that he will not raise taxes on the middle class, but will instead cut taxes for that large group, and will also decrease the tax burden on small businesses. Tax breaks given to the rich by the Bush administration will be rolled back under Kerry's plan, with that money invested in job creation, health care and education.
Nancy Weil writes for IDG News Service

Read more on IT legislation and regulation