Suppliers offer support for web message spec
Suppliers offer support for web message spec
Several suppliers including Sun Microsystems and Oracle have announced their support for the WS-MessageDelivery specification recently submitted to the World Wide Web Consortium.

Download this free guide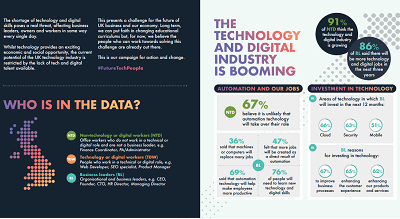 Infographic: How to future-proof UK technology
There is no doubt that the technology industry is booming right now, bringing with it exciting social and economic opportunities. However, there is a real fear that the UK industry may be stunted due to the lack of talent available. This e-guide helps to break down the future fears and expectations of dozens of business leaders and tech workers.
The royalty-free specification is intended to make it easier to build complex applications using web services by standardising the way web service endpoints are referenced when multiple web services are engaged in common message exchange patterns, according to the supportive companies.
The specification is designed to work with patterns outlined in Web Services Description Language and lays a foundation for more sophisticated message-based interactions without sacrificing the loosely coupled model of web services.
Companies announcing support include Arjuna Technologies, Enigmatec, Hitachi, Iona Technologies, Nokia, Oracle, SeeBeyond Technology, Sonic Software and Sun.
Paul Krill writes for InfoWorld