IBM unveils storage hardware
IBM has unveiled its first write-once, read-many (Worm) tape cartridge, which will help users address regulatory compliance...
IBM has unveiled its first write-once, read-many (Worm) tape cartridge, which will help users address regulatory compliance issues, and also announced a nearline disc array aimed at the entry-level storage market.

Download this free guide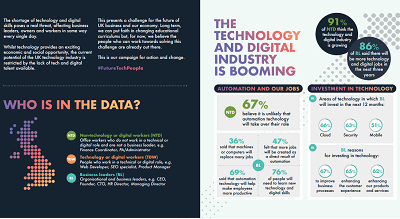 Infographic: How to future-proof UK technology
There is no doubt that the technology industry is booming right now, bringing with it exciting social and economic opportunities. However, there is a real fear that the UK industry may be stunted due to the lack of talent available. This e-guide helps to break down the future fears and expectations of dozens of business leaders and tech workers.
The FAStT100 Storage Server, scales from 256GBytes to 56TBytes and offers many of the same functions as its midrange FAStT600 array, but it uses lower-cost serial advanced technology attached drives.
The products are part of a strategy aimed at on-demand computing and an information lifecycle management strategy, according to Rich Lechner, vice-president of IBM's storage division.
IBM said the products are part of a preview of its "offence plan against EMC", which includes many tiers of storage and management capabilities.
Lechner touted IBM's TotalStorage San Volume Controller software which, it has said, can make disc arrays from EMC and Hitachi Data Systems act like a single pool of storage capacity from which applications users can draw.
EMC fired back by saying IBM is offering customers "vendor lock-in", while EMC's strategy is to partner with industry leaders to offer a lower total cost of ownership to its customers.
"We have not only opened up our [application programming interfaces] to our partners, we also support SMI-S [industry interoperability standards] throughout all Clariion products," said Ken Steinhardt, EMC's director of technology analysis.
Lechner said the Fast100 works with IBM's eServer, pSeries and eServer xSeries servers and Intel-based Unix servers. The system will begin shipping by July, although pricing was not immediately available.
IBM also touted its write-once, read-many tape cartridge for its TotalStorage Enterprise Tape Drive 3592, which can be used in existing IBM 3494 and 3584 tape libraries as well as in Storage Technology silo tape libraries.
Each cartridge retails for about $220. The cartridge will be available on 21 May.
The cartridge comes in 300GBytes and 60GBytes capacities and has four times the access speed as IBM's previous 3590 enterprise-class tape cartridge technology.
Lucas Mearian writes for Computerworld