Vodafone launches 3G for consumers
Vodafone Group yesterday launched a third-generation high-speed mobile internet service for consumers, just three months after...
Vodafone Group yesterday launched a third-generation high-speed mobile internet service for consumers, just three months after introducing a PC-card offering to business customers.

Download this free guide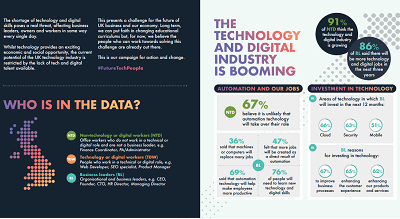 Infographic: Future-proofing UK technology
The current potential of the UK technology industry is restricted by the lack of tech and digital talent available. Read through this challenge for the future of UK business and our economy.
By submitting your personal information, you agree that TechTarget and its partners may contact you regarding relevant content, products and special offers.
You also agree that your personal information may be transferred and processed in the United States, and that you have read and agree to the Terms of Use and the Privacy Policy.
Europe's largest mobile phone company joins several other operators, including Hutchison 3G UK (3 UK) and Mobilkom Austria, which now offer new mobile service such as video calls and video streaming.
Vodafone's consumer 3G offering is available in Germany and Portugal, with most of the company's other 20-plus networks expected to follow by the end of the year, according to Vodafone spokeswoman Emma Conlon.
Vodafone is marketing 3G as the second of two packet-switched network technologies delivering the group's Live! mobile internet service, which allows customers to send e-mail, surf the web and send photos. The other network technology is GPRS, often referred to as a 2.5-generation technology.
The big difference between the two systems is speed: 3G is capable of a theoretical speed up to 2Mbps in a stationary position under ideal conditions, but most operators, including Vodafone, are targeting download speeds of around 384Kbps and upload speeds of 128Kbps. By comparison, GPRS is capable of a theoretical speed of 171Kbps service but can dip to less than 40Kbps.
Handsets have also been an issue with 3G. Users have complained that early models, primarily those introduced by rival 3 UK, are clunky and consume too much energy.
Vodafone in Germany is kicking off its 3G consumer service with the Z105 handset from Samsung Electronics. Within the coming weeks, the German operator will introduce a second model: the Z1010 handset from Sony Ericsson. Between five and six 3G handsets will be available within the coming months.
The Samsung handset costs €999 without a Live! 3G subscription, available for €29.95 per month, and €299 with a contract.
Analysys estimated that around 5.3 million Western Europeans will be using a 3G mobile device by the end of this year. Beginning in 2006, after most new networks have gone online, the consultancy projects demand for 3G service to rise sharply, with 70% of all Western European mobile subscribers, or 240 million people, to be using a 3G-enabled device by the end of 2009.
Those numbers should help calm the nerves of European mobile phone companies, which spent more than €100bn on 3G licences a few years ago.
John Blau writes for IDG News Service