Microsoft and Micro Focus target mainframes
Microsoft and Micro Focus International are to promote the migration of mainframe applications onto Intel servers running Windows...
Microsoft and Micro Focus International are to promote the migration of mainframe applications onto Intel servers running Windows using Microsoft's .net technology.

Download this free guide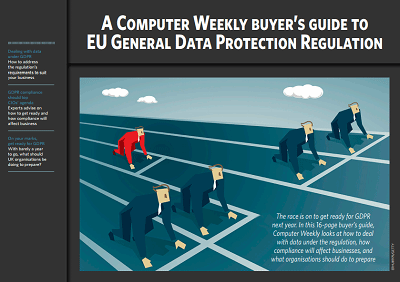 Computer Weekly's Buyer's Guide to GDPR
The race is on to get ready for GDPR next year. Computer Weekly looks at how to deal with data under the regulation, how compliance will affect businesses, and what organisations should do to prepare.
By submitting your personal information, you agree that TechTarget and its partners may contact you regarding relevant content, products and special offers.
You also agree that your personal information may be transferred and processed in the United States, and that you have read and agree to the Terms of Use and the Privacy Policy.
Although chief information officers and architects recognise the inherent value of legacy applications, they continue to grapple with how to migrate mainframe applications on Windows and .net to extend use and support development in web services or XML, Micro Focus claimed.
"This announcement is about the deployment of applications - the ability to take applications running today on IBM mainframes and have them run on Windows," said Micro Focus CEO Tony Hill, adding that enterprise mainframe customers can avoid any problems that might arise from IBM discontinuing support for certain mainframe operating systems.
IBM declined to comment on the alliance or the two companies' strategies.
The alliance enables the migration and deployment of CICS/Cobol mainframe applications to the Windows platform, the companies said. CICS is a mainframe transaction system.
In conjunction with Microsoft and several systems integrators, a Micro Focus spokesman said the company is offering an alternative to packaged application migration strategies that cuts costs while increasing the portability of applications to new technologies, especially .net.
Although IT spending has increased modestly this year, businesses remain under pressure to reduce costs, capture new markets, create new products and get closer to customers, said Hill.
"Because the migration is relatively straightforward, what you're able to do is take a mainframe application, move it to Windows, and the application will run faster, so you're able to provide better service and then have a platform for extending that application out as the organization seeks to become more agile," Hill said, claiming that costs can be halved.
Until now, Microsoft has not sold against the mainframe, said Bruce Burns, director of Microsoft's platform strategies and partner group.
"What's new is today customers aren't wanting to connect to the mainframe; they want off the mainframe - so it's at their request that we're forming this alliance," he added.
Linda Rosencrance writes for Computerworld
Read more on Server hardware