Windows/Linux thin client makes debut
Neoware Systems, a leading provider of thin clients, has unveiled a $199 appliance that runs both Windows and Linux.
Neoware Systems, a leading provider of thin clients, has unveiled a $199 appliance that runs both Windows and Linux.
The Capio One uses Citrix Systems' ICA, Microsoft's RDP, or Neoware's TeemTalk for host access to mainframes, midrange, Linux, Unix, and Windows systems.

Download this free guide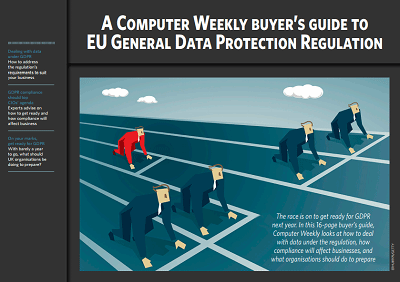 Computer Weekly's Buyer's Guide to GDPR
The race is on to get ready for GDPR next year. Computer Weekly looks at how to deal with data under the regulation, how compliance will affect businesses, and what organisations should do to prepare.
By submitting your personal information, you agree that TechTarget and its partners may contact you regarding relevant content, products and special offers.
You also agree that your personal information may be transferred and processed in the United States, and that you have read and agree to the Terms of Use and the Privacy Policy.
"We give customers a single OS platform, Linux, Win CE, or XP Embedded. But half of our business is Linux, that is [like] Linux on the desktop and almost all of those customers are connecting to Windows servers, running Windows applications at full native speed," said Neoware chief executive officer Mike Kantrowitz.
For added security the operating systems on the appliance are read only.
Neoware also unveiled the Eon product family. The e100, which costs $379, supports Windows CE, XP Embedded, and Linux with swappable operating systems. The e300, costing $949, is similar but comes with a flat panel display, and the e500, costing $1,299, is in a Tablet PC form factor.
The company also announced its Open Management strategy that will, in the first round of deployments, allow the thin clients to work with IBM Tivoli, Microsoft Systems Management Server, and Altiris Deployment Solution management tools. Kantrowitz said his company intends to support other enterprise tools from other suppliers in the future.
Bob O'Donnell, director of personal technology at IDC, said that despite the fact that thin clients make sense on many levels, less costly to support, more secure and easier to deploy software across the enterprise, there are other issues that are keeping the thin client market tiny.
"The problem is transitioning from PC to thin clients. More than anything people don't know what the issues are, how do I make it work and what are the potential gotchas. How do I have to change my infrastructure, that is a core issue," said O'Donnell.
Nevertheless, Neoware's Kantrowitz said thin client deployments are growing in the enterprise and becoming more mainstream.
"Ikea is using our appliances worldwide on the floor and in the back office," he said.
All models are shipping now.
Ephraim Schwartz writes for infoWorld
Read more on Server hardware