SAP moves to buy systems integrator
Germany's SAP Systems Integration (SAP SI) posted a 78% increase in net profit for 2003, just one week after business...
Germany's SAP Systems Integration (SAP SI) posted a 78% increase in net profit for 2003, just one week after business applications supplier SAP announced plans to acquire the remaining shares of the IT service provider.

Download this free guide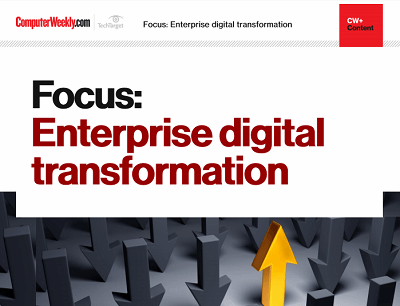 Are you digital to the transformation?
Digital transformation - the buzzword that we can't get away from. Enterprises need to accelerate their digital transformation journeys to avoid being left behind in an increasingly digital world. It's not an easy feat, but one that can be costly to get wrong. Join us as Computer Weekly takes a look at how businesses can stay on track through collaboration, innovation, and listening to user needs.
By submitting your personal information, you agree that TechTarget and its partners may contact you regarding relevant content, products and special offers.
You also agree that your personal information may be transferred and processed in the United States, and that you have read and agree to the Terms of Use and the Privacy Policy.
SAP SI's net profit in 2003 soared to €26.4m (£17.8m) from €14.8m the year before, on revenue which dipped 4% to €280.3m from €293.2m.
One factor contributing to the profit rise was the company's move to increase the number of days it bills customers for service.
"Last year, we were able to bill clients for 85% of all workable days in Germany, amounting to 220, from around 70% the year before," said SAP SI investor relations spokesman Stephan Kahlhöfer.
SAP SI saw revenue dip in Germany, which accounts for 85% of its business, by 2.6%, he said.
For 2004, the systems integrator expects revenue to climb between 8% and 12%, according to Kahlhöfer. A huge chunk of that growth will come from revenue to be consolidated for the first time from two companies acquired last year: Germany's SPM Technologies Deutschland and Switzerland's SLI Consulting.
The positive financial results come as SAP, which owns around 70% of the company, prepares to buy the remaining shares.
On 24 March, SAP announced its intention to take over the systems integrator completely and merge the company with its own consulting unit.
SAP's NetWeaver integration platform is driving the acquisition, according to Kahlhöfer.
"SAP SI focuses on systems integration, while SAP's consulting unit has traditionally focused on implementation," he said. "But with NetWeaver, SAP is moving more into systems integration, creating a competitive situation. So it makes sense to bring the units together and offer one face to the customer."
SAP is working on a formal tender to acquire outstanding shares, after which shareholders will have four weeks to decide on the offer.
John Blau writes for IDG News Service
Read more on Operating systems software