SanDisk introduces new flash memory cards
SanDisk has announced two flash memory cards designed to fulfill the storage needs of multimedia mobile phone users.
SanDisk has announced two flash memory cards designed to fulfill the storage needs of multimedia mobile phone users.
As mobile phones evolve to include still and video cameras and MP3 audio players, mobilephone users will need greater storage capabilities, said Bob Goligoski, a spokesman for SanDisk at the CeBIT tradeshow in Hannover.

Download this free guide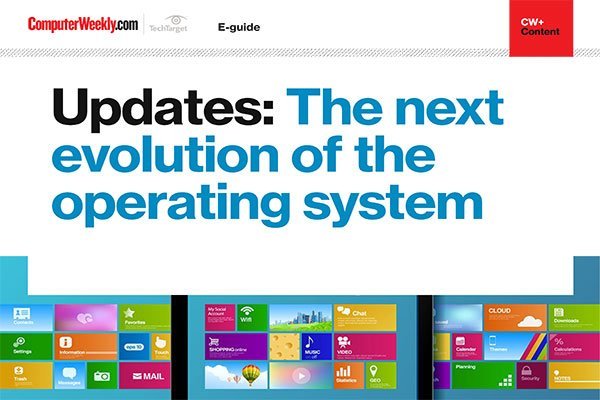 Unpacking the future of operating systems
In this e-guide, we take a look at how updates are the next evolution for operating systems. From security and iris recognition to 3D modelling and easier recognition with OneDrive, updates are key to keeping your device fresh and, most importantly, safe.
The compact flash cards will provide multimedia mobile phone users with cost-effective storage in a small form factor.
The company's Reduced Size-MultiMediaCard, or RS-MMC, is a removable flash memory card that is half the size of a standard SD (Secure Digital) card and can be used in any MMC slot or SD card slot.
The card will come in 32Mbyte, 64Mbyte and 128Mbyte capacities.
The small form factor and basic storage capacities of the RS-MMC card will appeal to multimedia mobile phone users.
The small RS-MMC also "gives manufacturers more room to work with" to build new features into future phones.
"As manufacturers add features such as cameras and MP3 players to phones, those components take up more [space]. Any component that can shrink in size is a bonus," Goligoski said.
The card will be sold to device makers in volume at prices ranging from $14.50 for the 32Mbyte card to $40 for the 128Mbyte card. No price was available for the 64Mbyte card.
"Every mobile phone manufacturer is adding a compact flash card slot to provide storage for multimedia files," said Goligoski.
The company also refreshed its line of Memory Stick Pro Duo cards. The cards, which have been available in capacities of 256Mbytes and 512Mbytes, will now also be offered to device makers in capacities ranging from 32Mbytes to 128Mbytes.
The cards will provide a low-cost storage option for mobile phone users who do not want to buy the expensive, high-capacity Memory Stick Pro Duo cards, said Goligoski.
They also will help mobile phone manufacturers provide customers who buy a multimedia mobile phone with cheap storage options, he added.
The lower capacity cards have improved write speed, which allows for real-time recording of high-resolution images and video. The cards also feature MagicGate security for the transfer of copyright-protected images and video.
The lower capacity Memory Stick Pro Duo cards are targeted at newer 3G and 2.5G mobile phone manufacturers whose customers require additional storage capacity for multimedia content.
The volume pricing for the storage cards will range from $14 to $43. The products are available to device makers worldwide immediately.
SanDisk also announced that another flash memory product, the MiniSD card, would become available through retailers worldwide. Introduced at last year's CeBIT, this product provides flash memory storage in capacities ranging from 64Mbytes to 256Mbytes.
Previously, the products were available only through retailers in Japan and through device makers who bundled the flash memory cards.
SanDisk also announced that its products, including compact flash cards, digital photo viewers and USB (Universal Serial Bus) drives, would become available in the second quarter through retail channels in eight East European countries.
Agam Shah writes for IDG News Service