NetWare builds 'cluster of clusters'
Novell will beta test a Business Continuity Cluster (BCC) product which enables up to four geographically distant clusters, with...
Novell will beta test a Business Continuity Cluster (BCC) product which enables up to four geographically distant clusters, with Sans, to act as one load-balancing unit, which the company calls a "cluster of clusters".

Download this free guide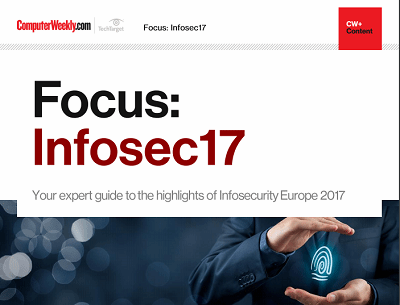 From forensic cyber to encryption: InfoSec17
Security technologist Bruce Schneier's insights and warnings around the regulation of IoT security and forensic cyber psychologist Mary Aiken's comments around the tensions between encryption and state security were the top highlights of the keynote presentations at Infosecurity Europe 2017 in London.
By submitting your personal information, you agree that TechTarget and its partners may contact you regarding relevant content, products and special offers.
You also agree that your personal information may be transferred and processed in the United States, and that you have read and agree to the Terms of Use and the Privacy Policy.
Richard Jones, Novell storage services product manager said, "The geo distant cluster and San take over for the first cluster that failed or was destroyed." In effect, the component clusters form a single logical cluster.
BCC is flexible and can be used to have a live cluster and a hot standby, or four life clusters, or a pair or two pairs of live clusters backing each other up. Jones said that if disaster happens, "the failover is a manual process. Customers can automate it via scriptable interfaces if they desire".
The product to be tested offers iManager snap-ins, DirXML drivers and storage array scripting control. Links between the clusters can be ATM, fibre channel, IP or Sonet.
For the beta test the clusters must run Netware 6.5 SP1, which supports both fibre channel and iSCSI Sans. A minimum of two storage arrays must be capable of being controlled via command line interface on the NetWare OS and have block level replication/mirroring set up and running between them.
"BCC replicates the resource configuration information and controls the host, San or storage array block-level replication. The actual San replication is dependent upon the replication capabilities offered in the San or host operating systems," said Jones.
The actual replication and mirroring is carried out by server, appliance or array-based products from Falconstor Software, DataCore Software and others.
These products are already available for storage replication and mirroring using other server operating systems such as Windows and various Unix flavours. Appliance-based ones are beginning to appear on intelligent fabric platforms like Brocade Communications Systems' Fabric AP 7420.
EMC's SRDF is an example of array-based replication. Xiotech offers multi-site storage clusters, needing no server-based software to provide cluster-wide failover. This contrasts with point-to-point replication or mirroring.
The Novell facility is up to four-way and covers clustered servers and storage nodes. It is also controllable manually or can be automated to suit customer's needs.
The BCC Services product is likely to be introduced in the autumn.
Chris Mellor writes for Techworld.com

Read more on IT risk management