Chip firm says US court has no jurisdiction over rival's claims
A Chinese contract chip maker hopes to bring a swift end to allegations of trade secret misappropriation by arguing that US...
A Chinese contract chip maker hopes to bring a swift end to allegations of trade secret misappropriation by arguing that US courts have no jurisdiction over several charges in a lawsuit brought against a rival.

Download this free guide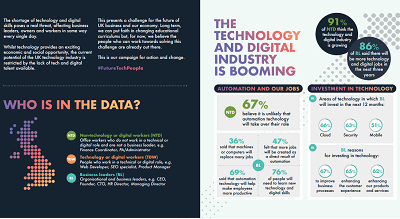 Infographic: How to future-proof UK technology
There is no doubt that the technology industry is booming right now, bringing with it exciting social and economic opportunities. However, there is a real fear that the UK industry may be stunted due to the lack of talent available. This e-guide helps to break down the future fears and expectations of dozens of business leaders and tech workers.
Next month, Chinese contract chip maker Semiconductor Manufacturing International (SMIC) will ask a US judge to dismiss the allegations of trade-secret misappropriation contained in the lawsuit.
"There is simply no basis to invoke this court's jurisdiction to hear a dispute between two foreign corporations over events that occurred in Taiwan and China and which involve no issues of US federal law," the SMIC filing stated.
Rival Taiwan Semiconductor Manufacturing had filed the lawsuit in a US court in December, alleging that SMIC infringed on five of its patents and misappropriated trade secrets related to the manufacture of semiconductors.
SMIC's filing argued that TSMC's amended complaint and allegations of trade-secret misappropriation are "filled with inaccuracies and distortions that are clearly designed to convey a false impression of wrongdoing and to malign the character and integrity of SMIC and its personnel but are unrelated to the patent infringement claims which form the sole basis for federal jurisdiction".
The filing did not address the five allegations of patent infringement brought against SMIC by TSMC. SMIC will address those charges within 10 days of the court's ruling on its motion for dismissal of the trade-secret misappropriation charges.
TSMC alleged that SMIC recruited more than 140 employees from TSMC and TSMC-affiliated companies to gain access to TSMC's technology and trade secrets. The complaint also alleged that a former TSMC quality control manager was directed to obtain TSMC trade secrets for SMIC while still employed by TSMC.
The stakes are high for SMIC, which intends to issue up to $714m of shares in an initial public offering on the New York Stock Exchange. That IPO is slated to take place on 17 March and will be followed by a second listing on the Hong Kong Stock Exchange.
Sumner Lemon writes for IDG News Service
Read more on IT legislation and regulation