Intel/AMD dispute goes to US Supreme Court
The US Supreme Court is to hear arguments in a dispute between Advanced Micro Devices and Intel over whether documents sealed in...
The US Supreme Court is to hear arguments in a dispute between Advanced Micro Devices and Intel over whether documents sealed in a US court case can be revealed to the European Commission.

Download this free guide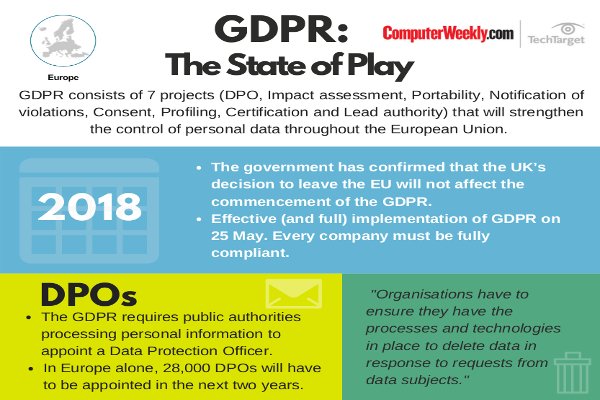 Infographic: GDPR - The State of Play
Get the latest information on how GDPR is going to affect your business and how to avoid any unwanted fines with this simple infographic.
By submitting your personal information, you agree that TechTarget and its partners may contact you regarding relevant content, products and special offers.
You also agree that your personal information may be transferred and processed in the United States, and that you have read and agree to the Terms of Use and the Privacy Policy.
AMD had asked the court to order Intel to unseal documents related to a trial between Intel and Intergraph, which was thrown out by a judge in 1999. AMD claims the documents prove its claims that Intel engaged in anticompetitive behaviour in Europe.
The European Commission wrapped up its investigation into the matter last year, concluding that Intel did not violate any anticompetitive rules.
The District Court denied AMD's petition, but the US Court of Appeals reversed that decision. Now Intel is asking the Supreme Court to intervene, claiming it should not be forced to reveal documents that had been sealed by the US court in the Intergraph antitrust case, said Chuck Mulloy, an Intel spokesman.
Appeals courts throughout the US have issued different rulings on the extent to which US courts and companies are required to provide documents to foreign investigators, based on whether the investigating body is an administrative body or a judicial body, Mulloy said.
Intel's position is that the European Commission's Bureau of Competition is an administrative body and, therefore, Intel should not have to provide sealed documents which contain confidential information about Intel's business practices.
AMD will argue that the documents contain information that would help it prove its anticompetitive claims against Intel, a company spokesman said. The company believes the commission is a law enforcement agency that regulates competitive behaviour in Europe, and can impose fines and penalties if it finds evidence of anticompetitive behaviour, according to a copy of AMD's brief to the Supreme Court.
In its complaint with the European Commission, AMD claimed that Intel's "Intel Inside" advertising campaign forced customers to use Intel products to receive marketing dollars, and that Intel punished distributors for purchasing AMD products by withholding supplies.
The Supreme Court will hear arguments in the first half of next year, with a decision expected around June, an AMD spokesman said.
Tom Krazit writes for IDG News Service
Read more on IT legislation and regulation