Hitachi Data partners with Ixos and AppIQ
Hitachi Data Systems has partnered with Ixos Software and AppIQ with the aim of improving its content and storage management...
Hitachi Data Systems has partnered with Ixos Software and AppIQ with the aim of improving its content and storage management software offerings.
The company will build two e-mail archive management products using Ixos's eConserver software: Message Archive for E-Mail, which can be used to eliminate e-mail in-box size limits, and Message Archive for Compliance, which uses Hitachi's LDEV Guard software to store information in a write once, read many fashion that cannot be overwritten for a fixed period of time.

Download this free guide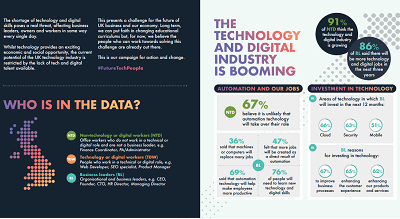 Infographic: How to future-proof UK technology
There is no doubt that the technology industry is booming right now, bringing with it exciting social and economic opportunities. However, there is a real fear that the UK industry may be stunted due to the lack of talent available. This e-guide helps to break down the future fears and expectations of dozens of business leaders and tech workers.
As Hitachi continues to develop products based on the Ixos software, its customers eventually will be able to use its HiCommand management software to manage a wide variety of content types, especially those that may be subject to government regulation, such as cheque images, account statements and trade receipts, said Ken Beaudry, senior vice president and general manager of Hitachi's Global Solutions Services business.
The Ixos partnership comes two weeks after EMC announced its intention to acquire content management software company Documentum.
Ixos itself is the subject of a $250m acquisition bid from knowledge management company Open Text.
Both Documentum and Ixos sell content management software which manages the kind of unstructured data found in e-mail files or word processor documents, and EMC and Hitachi's move into this space both reflect the growing importance of this market, said Brian Babineau, an analyst with the Enterprise Storage Group.
"Content management is a terrific opportunity to grow their businesses, so they were all in negotiations with these larger players. EMC happened to make an acquisition. Hitachi chose the marketing route," he added.
Message Archive for E-Mail will be available in December, and Message Archive for Compliance will ship in the first quarter of 2004.
Hitachi also struck a deal with storage management software company AppIQ, aimed at strengthening its heterogeneous storage management offerings.
Hitachi will gradually integrate AppIQ's StorageAuthority management software into its HiCommand policy manager over the next two years, which will give Hitachi customers the ability to manage devices using the SMI (Storage Management Initiative) standard.
The company will also build new HiCommand software modules using AppIQ's CIMIQ-X management platform, Hitachi said.
Robert McMillan writes for IDG News Service