DCML is the 'HTML of the datacentre'
Twenty-five companies have unveiled the XML-based standards initiative DCML (Data Center Markup Language). The standard is...
Twenty-five companies have unveiled the XML-based standards initiative DCML (Data Centre Markup Language). The standard is designed to serve as the foundation on which users can build and deploy enterprise-capable applications.

Download this free guide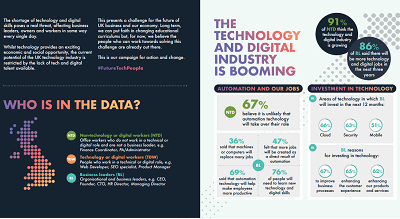 Infographic: How to future-proof UK technology
There is no doubt that the technology industry is booming right now, bringing with it exciting social and economic opportunities. However, there is a real fear that the UK industry may be stunted due to the lack of talent available. This e-guide helps to break down the future fears and expectations of dozens of business leaders and tech workers.
Led by Opsware, Electronic Data Systems, Computer Associates International and BEA Systems, the founding companies also announced the formation of the DCML Organisation, which will be largely responsible for advancing and maintaining the proposed standard.
The long-term goal of DCML is to introduce a simpler way to achieve interoperability among widely disparate IT systems, thereby encouraging the use of utility computing among larger datacentres.
"Without a standards-based mechanism that better defines datacentre relationships, IT operations management will continue to struggle with implementing configuration and change-management processes, which would then continue to remain very labour intensive," said Donna Scott, a senior analyst at Gartner.
The proposed standard encompasses a range of datacentre elements including network and storage components. It also contains support for operating systems such as Windows, Linux and Unix, in addition to software infrastructure products and accompanying applications.
Executives from the founding companies contended that DCML is the first standard model to describe what is contained in a datacentre and, more specifically, how that environment is constructed. By doing so it enables a systematic reproduction, rebuilding, or reprovisioning of any portion of the datacentre environment.
Marc Andreessen, Opsware's chairman, said DCML can be thought of as HTML for the datacentre.
While it may take some time for it to become widely adopted - particularly by IBM, Sun Microsystems and Microsoft - Andreessen said he believed DCML will follow the same acceptance as did HTML and TCP/IP.
Version 1.0 of DCML will be out early next year. Opsware is expected to make its offering fully complaint with the specification by the end of the first quarter of 2004.
Ed Scannell writes for InfoWorld