Security company warns of Hotmail worm
Security company Finjan Software has warned of a security vulnerability in Microsoft's Hotmail web-based e-mail service, but...
Security company Finjan Software has warned of a security vulnerability in Microsoft's Hotmail web-based e-mail service, but Microsoft said that the hole has already been closed.

Download this free guide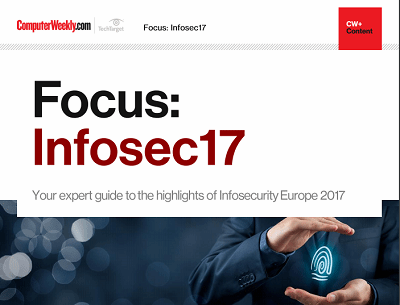 From forensic cyber to encryption: InfoSec17
Security technologist Bruce Schneier's insights and warnings around the regulation of IoT security and forensic cyber psychologist Mary Aiken's comments around the tensions between encryption and state security were the top highlights of the keynote presentations at Infosecurity Europe 2017 in London.
By submitting your personal information, you agree that TechTarget and its partners may contact you regarding relevant content, products and special offers.
You also agree that your personal information may be transferred and processed in the United States, and that you have read and agree to the Terms of Use and the Privacy Policy.
The latest security flaw, known as a cross-site scripting vulnerability, could be used to create an internet worm that steals e-mail addresses from Hotmail users' accounts, captures credit card numbers or installs Trojan horse programs, Finjan said.
The vulnerability exists in the way that Hotmail treats e-mail containing ActiveX controls, which are small, portable pieces of software code that enable programmers to embed sophisticated user interface elements into web pages for use over a corporate intranet or the internet. Hotmail content filters do not adequately block e-mail messages containing the controls.
In cross-site scripting attacks, malicious hackers embed attack code in web pages or HTML e-mail messages. Once executed, cross-site scripting attacks can give attackers access to personal account or financial information or control over a remote machine.
As a result of the vulnerability, attackers could run malicious code on the computer of a Hotmail user who opened an e-mail containing the malicious ActiveX control.
By embedding a worm engine in the e-mail and code that would grab the addresses from the Hotmail user's address books, attackers could use the vulnerability to make a worm, Finjan said.
A Microsoft spokesman said the company was informed of the problem by Finjan on 8 October and patched the company's Hotmail systems within 24 hours.
No Hotmail users were affected by the cross-site scripting vulnerability, he said.
Microsoft has faced frequent criticism for security holes in its Hotmail and .net Passport single sign-on service, which are used by millions of people on the internet.
In July, the company issued an emergency patch for the .net Passport service after security researchers discovered and publicised a hole in a feature that helps users update their account password.
Paul Roberts writes for IDG News Service
Read more on IT risk management