3Com takes on Cisco with cut-price routers and simpler operation
A strategy by network equipment supplier 3Com to lure enterprise customers away from arch-rival Cisco could mean reduced hardware...
A strategy by network equipment supplier 3Com to lure enterprise customers away from arch-rival Cisco could mean reduced hardware hardware costs and a simpler configuration for users.

3Com launched a range of routers earlier this month which it said would be priced at 30% to 50% less than equivalent Cisco products. The company said it was able to reduce the price of its network equipment by following Cisco's approach and outsourcing manufacturing.

Under a joint venture with Huawei, 3Com network devices are now engineered and made in China.

The first fruit of this venture is the 3Com 5000 range of routers supports T1, Frame Relay, ISDN, IPSec virtual private networks, firewalls and quality of service to support voice over IP traffic. The products compete with Cisco devices up to the Cisco 3600 Series, a router aimed at medium and large companies and smaller internet service providers. The price of the highest spec Cisco device is $13,500 (£8,000).

But, with Cisco technology underpinning much of the internet infrastructure and most global business networks, price is only one factor that determines which network equipment users buy.

In an attempt to break Cisco's market dominance, 3Com and other recent entrants to the router market, such as Enterasys, have tried to differentiate themselves by offering an alternative to the complexity found in Cisco devices, which, they say, many businesses do not need.

Andy Rolfe, an analyst with Gartner, said, "3Com is providing a simpler hardware configuration and bundling all the software. Among the benefits of this approach is the fact that such devices have sufficient memory to run network software."

Rolfe said 3Com's bundled software was easier to manage and offered users features such as virtual private networks and firewalls. "In contrast, with Cisco you buy the basic configuration and then pay to add things on," he said.

However, not all users will be able to benefit from 3Com's offering. Rolfe said the 3Com devices were best suited to mid-range architectures because the wide area network interface on the 3Com routers could only support data speeds of 2mbps, making them unsuitable for large enterprises.

Download this free guide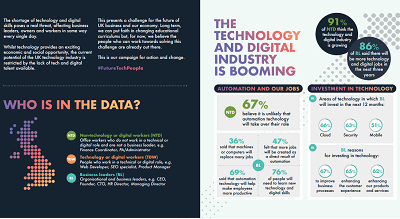 Infographic: How to future-proof UK technology
There is no doubt that the technology industry is booming right now, bringing with it exciting social and economic opportunities. However, there is a real fear that the UK industry may be stunted due to the lack of talent available. This e-guide helps to break down the future fears and expectations of dozens of business leaders and tech workers.