How Abbey National replaced its network infrastructure without breaking the bank
Abbey National has taken just five months to move its legacy branch network onto an IP virtual private network operated by BT...

Download this free guide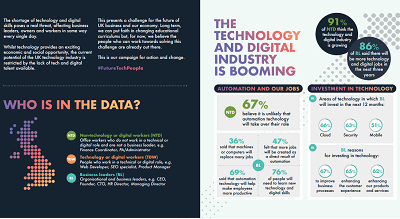 Infographic: How to future-proof UK technology
There is no doubt that the technology industry is booming right now, bringing with it exciting social and economic opportunities. However, there is a real fear that the UK industry may be stunted due to the lack of talent available. This e-guide helps to break down the future fears and expectations of dozens of business leaders and tech workers.

Abbey National has taken just five months to move its legacy branch network onto an IP virtual private network operated by BT Transform.

The project, which involved 7,000 site visits, saw the replacement of leased lines, ISDN and ASDL with an IP VPN to support data and voice network traffic.

When the first phase of Abbey's new network is fully operational at the end of October, its 750 branches will handle 750,000 internal calls and 1.2 million calls from the public every month.

Bill Gibbons, director of technology services and support at Abbey National, said three main factors contributed to the success of the project.

First, the bank and BT Transform set up a proof-of-concept project that looked at the challenges of upgrading both the branches and the main offices.

"We learned a number of lessons from the project," said Gibbons. Upgrading branches involved multiple site visits by BT and Abbey staff working outside office hours.

A degree of advanced planning was also needed to liaise with local authorities to get permission to dig up roads to lay cabling.

The main branches posed a different challenge. "We realised we would need to upgrade hundreds of people overnight to the new network," said Gibbons. "Any delay would have meant a key bank location would be unable to conduct business."

The pilot project also convinced Gibbons of the need of a helpdesk for branch staff to guide them through teething problems with the new network.

Gibbons put the second factor in the project's success down to a decision to locate Abbey's project team next to the BT Transact office in Milton Keynes.

"This allowed Abbey's project team of technical, human resources, legal and operational risk staff to collaborate more closely with BT on the project plan," he said.

The third key was "Setting reasonable planning horizons," Gibbons said. This involved ensuring the project team could accommodate business requirements.

One such factor was the upgrade from Category 3 cables to Category 5 within Abbey bran-ches. "BT sub-contractors had to complete the cabling before we could transfer to the BT Transform network," Gibbons said.
Read more on IT project management