Innovate to 'shield' PCs from viruses, says Microsoft's Ballmer
Security woes threaten innovation in the computer industry, but they could also offer an opportunity to innovate that the...
Security woes threaten innovation in the computer industry, but they could also offer an opportunity to innovate that the industry should seize, according to Microsoft chief executive officer Steve Ballmer.

Download this free guide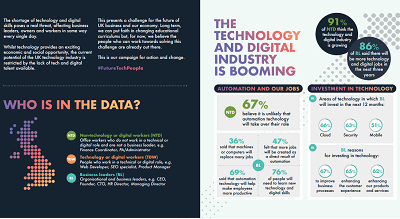 Infographic: How to future-proof UK technology
There is no doubt that the technology industry is booming right now, bringing with it exciting social and economic opportunities. However, there is a real fear that the UK industry may be stunted due to the lack of talent available. This e-guide helps to break down the future fears and expectations of dozens of business leaders and tech workers.
"Today we're faced with another new and growing challenge to innovation. That is the need for the highest levels of security in a world that, frankly, is full of thieves, con artists, terrorists and hackers," Ballmer told an audience of Silicon Valley businesspeople.
Microsoft and the industry should not surrender but fight. "Our company and our industry have to hit on all cylinders to meet this new challenge," he said.
Ballmer compared the threat of hackers and virus writers with that of bank robbers in the Old West. "In the Old West, the banks did not shut down because of the bank robbers. They improved the banks, they improved law enforcement and went after them," he said.
The comments come just days after Microsoft warned of another serious vulnerability in its Windows software - one similar to the flaw exploited by the widespread MSBlaster worm a few weeks ago.
Computers need a shield to protect against viruses, worms and hacker attacks, rather than products that deal with the problem after it has already reached the PC, Ballmer said. He described this "shield technology" as "perhaps the most important technical area" that Microsoft is focused on.
"We think that one of the best answers may be to stop the viruses at the front door, rather than having to deal with them at the backd oor, and that is a whole new front we think is a line of defence," he said. "We are absolutely committed to try to accomplish this notion of shielding."
Ballmer added that while he understood customers' frustration at the exploits and security holes, he reiterated that computer users also have a responsibility.
"Too many users are not fully utilising security technologies and not fully designing their networks for maximum security. There is a critical message that all of us in the industry need to convey to business customers and consumer customers," he said.
Microsoft recently started a campaign that included full-page advertisements urging users to apply security patches.
Joris Evers writes for IDG News Service
Read more on IT innovation, research and development