The US and EU step closer to spam agreement
The chairwoman of the European Parliament's European Internet Foundation said she believed the US Congress and its European Union...
The chairwoman of the European Parliament's European Internet Foundation said she believed the US Congress and its European Union counterpart will come up with an agreement to prosecute spammers across international borders.

Download this free guide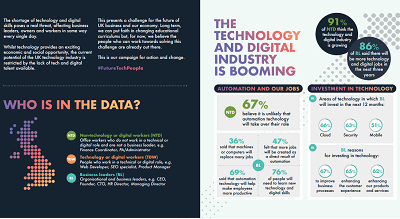 Infographic: How to future-proof UK technology
There is no doubt that the technology industry is booming right now, bringing with it exciting social and economic opportunities. However, there is a real fear that the UK industry may be stunted due to the lack of talent available. This e-guide helps to break down the future fears and expectations of dozens of business leaders and tech workers.
The US and European Union stand at a critical juncture for fighting unsolicited commercial e-mail, as the US Congress considers antispam legislation and the European Commission this week has promised concrete action on spam by late this year, said Erika Mann, a member of the European Parliament (MEP) from Germany.
Mann was among a group of nine MEPs talking to congressional leaders and US federal agencies this week about working together on technology issues.
"If you don't get international agreement on this issue, you will never solve it," said Mann. "We want to go after those [spammers] who are operating illegally."
As congress considers antispam legislation, critics have suggested that US legislation will do little to stem the tide of spam coming from other countries. But Mann said Europeans are just as fed up with spam as US residents are, and she believes the US and European Union will soon come to an agreement that leads to enforcement of spam laws on both sides of the Atlantic.
The spam law enforcement agreement would then "set the standard for the rest of the world", Mann said.
In May 2002, the European Parliament passed antispam legislation requiring companies to receive consumer opt-in permission before sending them commercial e-mail.
Three bills that have been heard in the US Congress since May all require consumers to send opt-out requests to companies sending them e-mail, but Mann said the different approaches should not hinder an enforcement agreement between the US and European Union.
"I'm not sure if the opt-in or the opt-out is the best," Mann said. Although the European Union prefers an opt-in approach, it and the US are closer to agreement on spam and other internet issues than on many other issues, she said.
Mann said her group would push for an international agreement on enforcing spam laws.
US representative Bob Goodlatte, and co-chairman of the Congressional Internet Caucus, said the US and EU need to work more closely together on a variety of technology issues, including spam, piracy and internet taxation.
"The internet is the greatest challenge to the sovereignty of nations and states in the history of mankind," he said, noting that countries have to work together to overcome these issues.
Grant Gross writes for IDG News Service
Read more on IT legislation and regulation