AT&T and MCI offer Wi-Fi to enterprise VPN customers
AT&T and MCI, formerly WorldCom, have both added Wi-Fi access to their enterprise class, remote-access virtual private network...
AT&T and MCI, formerly WorldCom, have both added Wi-Fi access to their enterprise class, remote-access virtual private network service.
AT&T will offer wireless access to its enterprise clients using its VPN service at more than 2,000 Wi-Fi locations in 20 countries in the fourth quarter of this year. AT&T has partnered with GRIC Communications, a provider of global remote access services, to offer the service.

Download this free guide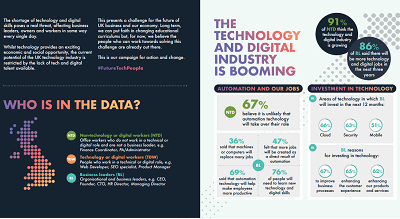 Infographic: Future-proofing UK technology
The current potential of the UK technology industry is restricted by the lack of tech and digital talent available. Read through this challenge for the future of UK business and our economy.
AT&T, IBM and Intel own Cometa Networks, which provides Wi-Fi service to McDonald's. The fast-food chain rolled out Wi-Fi service in the San Francisco Bay area earlier this week.
MCI will offer Wi-Fi access for its enterprise VPN customers through an agreement with Wayport. Dick Rossi, a GRIC spokesman, said his company also has service agreements with Wayport, which means AT&T enterprise customers will be able to tap into "hot spots" operated by Wayport.
Public access Wi-Fi networks operate under the industry standard 802.11b protocol, which provides a raw data rate of 11Mbit/sec. at a range of 100 to 300 ft.
Wi-Fi network operators install access points in hot spots located in high-traffic areas such as restaurants, airports, hotels, convention centres and - in Europe - railway stations, and offer service at an hourly rate or through monthly, flat-rate pricing.
Gartner estimated there will be slightly more than 50,000 Wi-Fi hot spots worldwide by the end of 2003 and more than 151,000 by the end of 2005.
Despite phenomenal growth in public Wi-Fi access over the past two years, Meta Group analyst Chris Kozup said he has seen little interest so far from enterprises for the service. None of his enterprise clients have signed on for the kind of companywide subscriptions that carriers such as AT&T, GRIC, MCI and Wayport need to justify their investments.
Rossi said that only a "small percentage" of enterprises use GRIC's Wi-Fi service.
Neither AT&T nor MCI provided pricing for their new Wi-Fi services. Wayport has a flat rate of $29.95 a month.
Rossi said GRIC has a list price of roughly $20 for 50 hours of Wi-Fi access for enterprise clients who use the service in their home countries. When abroad, prices for Wi-Fi access can run about $6 an hour. Depending on volume, however, those prices can be "deeply discounted", he added.
Bob Brewin writes for Computerworld