Avaya hires IBM for business transformation
Computer networking specialist Avaya has launched a business transformation project to standardise and streamline its core...
Computer networking specialist Avaya has launched a business transformation project to standardise and streamline its core operations globally. The aim is to simplify and enhance the way it interacts with customers and partners.

Download this free guide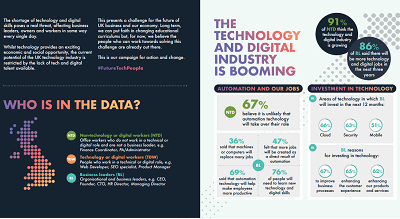 Infographic: How to future-proof UK technology
There is no doubt that the technology industry is booming right now, bringing with it exciting social and economic opportunities. However, there is a real fear that the UK industry may be stunted due to the lack of talent available. This e-guide helps to break down the future fears and expectations of dozens of business leaders and tech workers.
At the IT level, the project calls for revamping Avaya's software architecture by upgrading and extending its use of SAP enterprise resource planning and Siebel Systems' customer relationship management applications and replacing an assortment of older, less integrated software programs.
Avaya expects that standardising on SAP and Siebel will give it a globally consistent software architecture for its core business processes, including sales, billing, customer service, supply chain management and finance. This would support Avaya's extensive transformation of these business processes to simplify and standardise them globally.
The transformation is also designed to increase revenue and improve the bottom line. In its second fiscal quarter of 2003, ended 31 March, Avaya's revenue dropped to $1.08bn, from $1.27bn in 2002's second fiscal quarter, while its net loss narrowed to $16m from $63m.
Avaya launched its transformation project around October 2002 and brought in IBM's Business Consulting Services (BCS) team about five months ago to provide business-transformation consulting and system integration services, said Jack Denault, vice-president of business transformation at Avaya. The contract with IBM runs for three years.
The companies declined to disclose the contract's value, but analyst Jonathan Eunice estimates it is worth at least $200m, big in the context of consulting and systems integration engagements.
IBM BCS was formed last year as a result of IBM's $3.5bn purchase of PwC Consulting from PricewaterhouseCoopers. IBM BCS was formed with about 30,000 PwC Consulting employees and another 30,000 employees from an IBM division called Business Innovation Services.
For IBM BCS, the Avaya project currently ranks among its most important ones. It's in a group of top-tier engagements we've got that offer the full breadth of our capabilities," said Sam Kapreilian, the global relationship partner for the Avaya project at IBM Business Consulting Services.
Juan Carlos Perez writes for IDG.
Read more on IT supplier relationship management