Spammer hit with £10m damages
Internet service provider EarthLink has won $16m (£10m) in damages against a man in New York state who was alleged to have used...
Internet service provider EarthLink has won $16m (£10m) in damages against a man in New York state who was alleged to have used illegal means to send out more than 825 million unsolicited e-mail messages.
The court also permanently banned Howard Carmack from spamming and from a host of other activities related to spamming, such as distributing mass e-mail software and selling e-mail addresses, according to Pete Wellborn, legal counsel for EarthLink.

Download this free guide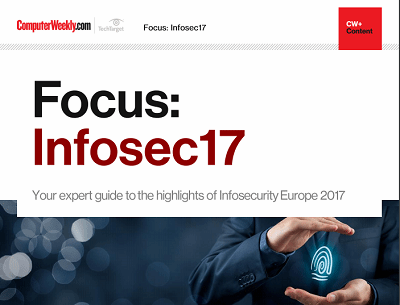 From forensic cyber to encryption: InfoSec17
Security technologist Bruce Schneier's insights and warnings around the regulation of IoT security and forensic cyber psychologist Mary Aiken's comments around the tensions between encryption and state security were the top highlights of the keynote presentations at Infosecurity Europe 2017 in London.
By submitting your personal information, you agree that TechTarget and its partners may contact you regarding relevant content, products and special offers.
You also agree that your personal information may be transferred and processed in the United States, and that you have read and agree to the Terms of Use and the Privacy Policy.
EarthLink said that a ring led by Carmack obtained internet accounts using stolen credit cards, identity theft and bank fraud, then used those accounts to send out reams of spam.
Carmack used the accounts of family members and third parties to mask his activities, sending out spam e-mail for "work at home" and "get rich quick" schemes and cable television descramblers.
"This was the worst of the worst of the worst of what you see in spam," Wellborn said.
EarthLink began investigating the spam ring in March 2002 following what it described as a "spike" in spam e-mail from the Buffalo area of New York.
By October, an EarthLink team led by Mary Youngblood, EarthLink's network abuse team manager, identified and contacted a number of individuals involved in the ring who fingered Carmack as the ringleader.
EarthLink pursued Carmack and shut down several accounts he used. However, Carmack's spamming activities continued to be "a big enough nuisance" that EarthLink turned to the courts.
Wellborn said the ruling was a "best case scenario" for EarthLink and internet users weary of spam e-mail messages.
"The court's permanent injunction protects internet users everywhere and the $16m damages award sends a message to everyone out there that if you keep spamming there will be a financial death penalty," he said.
In April, America Online filed five separate lawsuits against alleged spammers as part of its antispam campaign.
Those lawsuits, filed in AOL's home state of Virginia, charge more than a dozen companies and individuals with sending an estimated one billion spam messages to AOL members.
Read more on IT risk management