Paul Smith adopts a platform for expansion
I have been running Windows 2000 Server at fashion designer and retailer Paul Smith for the past two years.
I have been running Windows 2000 Server at fashion designer and retailer Paul Smith for the past two years.
While it has been a big improvement over the previous NT 4.0 operating system in terms of stability, we are now looking to replace it with Windows Server 2003 when it ships.

Why? First I am looking for an IT foundation on which to base business expansion; second, we buy the software through an open subscription, which allows us to upgrade without additional licensing costs. Also, Paul Smith was invited to participate in Microsoft's rapid-adoption programme, which allowed us to pilot the new software with Microsoft support on hand.

The pilot highlighted two main issues. Given that we had Windows 2000 installed already, it would make sense to install the new operating system as an upgrade rather than implementing from scratch. This, in turn, would have an impact on our Active Directory structure.

We realised the Windows 2000 Active Directory would need to be converted to Windows 2003. Microsoft provides a utility called ADPrep for upgrading a Windows Server 2000 Active Directory to Windows Server 2003. But the new Active Directory in Windows 2003 introduces more than 500 changes.

While the conversion tool will make our existing directory compatible with the Windows Server 2003 Active Directory structure, clearly we will need to extend it if we implement new Active Directory features such as public key infrastructure and Windows Management Instrumentation.

We have now finished all the testing, revised our strategy and, with help from IT services supplier Lynx, we have developed a deployment guide for the roll-out.

I anticipate that the upgrade to Windows 2003 should take no more six days. We are now just waiting for the final code from Microsoft and are looking to start the roll-out later in April.

Lee Bingham is IT manager at clothes designer Paul Smith.

Download this free guide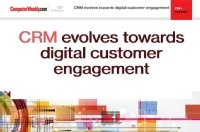 Why customer relationship management is turning to AI for assistance
In this e-guide, we look at how AI is powering retail customer experience, why SAP Hybris could paint the future of commerce and how Ulster bank is faring after adopting a full-scale Salesforce Einstein CRM.
Read more on Business applications