Storage market shows slight growth
Hewlett-Packard and IBM take the lead in overall storage sales in a market that grew 12% sequentially in the fourth quarter,...
Hewlett-Packard and IBM take the lead in overall storage sales in a market that grew 12% sequentially in the fourth quarter, despite an overall slump for the year.

Download this free guide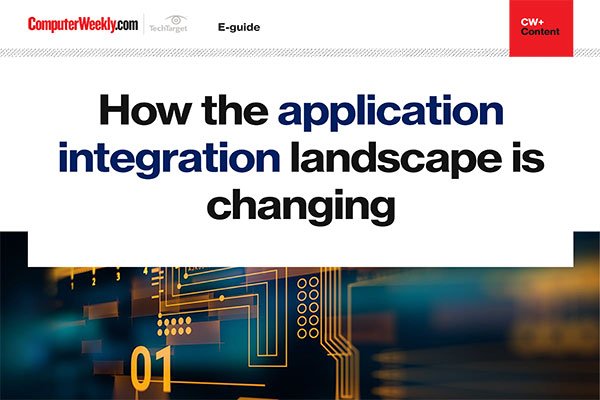 8 ways in which the application integration lanscape is evolving
We take a look at how technologies like Distributed Computing and the Common Object Model have been refined into web services, service-oriented architecture and composable applications and microservices.
By submitting your personal information, you agree that TechTarget and its partners may contact you regarding relevant content, products and special offers.
You also agree that your personal information may be transferred and processed in the United States, and that you have read and agree to the Terms of Use and the Privacy Policy.
In 2002, storage sales, which totalled $5.4bn, dropped 15% over 2001, according to IDC, beating IDC's prediction that sales would drop by 21% for the year.
HP and IBM each garnered 25% of sales in the quarter, with $1.37bn and $1.34bn, respectively. EMC was third with 11%, or $505m in sales; Sun Microsystems had 6%, or $225m in sales; and Dell and Hitachi Data Systems each grabbed 5% of the storage market, with $278m and $277m respectively.
The fourth-quarter jump in sales was attributed to companies loosening the purse strings at the end of the year, according to IDC analyst Robert Gray.
IDC, however, did not expect the upswing to continue. Its forecast for this year is for a slight decline over 2002 sales.
HP maintained top position in external storage sales, with 21% of the revenue in that market. IBM and EMC were second, with 17% revenue share each. In the external RAID market, HP and EMC tied for the top position, with 19% of the revenue share each.
While EMC touted the external RAID numbers as evidence that it has the clear lead in actual storage sales, IDC network storage analyst Eric Sheppard said users were clearly looking for suppliers that can provide them with end-to-end sales and support, and "servers are clearly more important than ever before".
"Being able to provide both servers and storage as a solution is important," Sheppard said. "The total market is the most important market."
HP's success in the "total" storage market was directly related to its increased sales of networked arrays, which Gray attributed to the company's acquisition of Compaq in 2002. "One of crown jewels [HP] got in the Compaq acquisition was its StorageWorks division, the executives who ran it and their ability to execute," he said.
EMC spokesman Greg Eden pointed to his company's success in networked storage, which represented 30% of the market. "Networked storage is what customers are deploying more and more of these days," he said. "We're the only vendor in Q4 that has double-digit share in both [network-attached storage] and storage-area network market."
Read more on Integration software and middleware