Dairy firm uses Coda-Intelligence software to boost ERP performance
Associated Co-operative Creameries (ACC) is deploying Coda-Intelligence data mart software as the first stage in a project to...

Download this free guide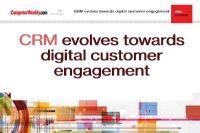 The revolving door of customer relationship management
Download this e-guide to get a closer look into how enterprises are using various CRM products to engage with their customers easily and on a large-scale.

Associated Co-operative Creameries (ACC) is deploying Coda-Intelligence data mart software as the first stage in a project to give managers access to business information through a portal.



ACC had been a beta site for Coda's new Coda-Intelligence software since September 2001. Speaking to CW360.com, Andy Wilson, data control manager at ACC, said that one of the drivers for the business was to improve the performance of ACC's core Coda Financials ERP which has been running since 1999.

The company's performance problems stemmed from the need to take reports from the ERP system. Wilson said ACC was experiencing problems on Coda Financials when users wanted to run reports at the same time data was being input into the ERP system. Another issue was ACC was running short on storage.

Wilson said moving data out of the core ERP system into Coda-Intelligence involved an extraction, translation and load (ETL) procedure. Using a mapping known as a "star schema", data from the ERP was loaded into Coda-Intelligence.

"We had a few problems with inaccuracies and discrepancies in the data transformation," he said, but by working with Coda, ACC was able to resolve these issues.

As he was using beta software, Wilson developed scripts, which could automatically test the system each time Coda released a new version of its Coda-Intelligence software. Wilson said the benefit of using the beta code for ACC was direct access to Coda.

The Coda-Intelligence installation at ACC runs on a twin-processor 933 MHz Dell server Windows 2000 server configured with 500Mb of memory. The back-end database for Coda-Intelligence is SQL Server 7, which runs on a twin processor Windows server configured with 2 Gb memory. Storage for SQL Sever is provided by a 288 Gb Raid arrray.

The end result for the project is a portal that maps data from the business on to the company's key performance indicators (KPIs). The goal is to give managers and finance staff personalised information on business performance.

Through the portal, users would be able to drill down to reports, such as a cost centre's net profitability. The portal would also provide what ACC describes as performance "traffic lights" on their desktop.
Read more on Business applications