N+I: Microsoft Project aims for the enterprise
Microsoft 's desktop productivity tool, Microsoft Project, will make its debut next month as a fully-fledged corporate project...
Microsoft 's desktop productivity tool, Microsoft Project, will make its debut next month as a fully-fledged corporate project and resource management product suite, the company announced at the NetWorld+Interop show in Las Vegas.

The move is another step in Microsoft's plan to build a family of enterprise resource management (ERP) products and the announcement coincided with Microsoft's bid for Navision, the European mid-market ERP vendor.

The new Project family of products will have a similar look and feel to Microsoft's Office XP product suite. But more importantly it incorporates new, centralised resource allocation and monitoring functions designed to allow management of a whole portfolio of projects, according to product manager Charles Zaragoza.

Project now also incorporates XML and Simple Object Application Protocol (Soap) functions, which bring the project-management application into Microsoft's .net plan for the integration of products and applications over the Internet.

"Project has grown up and is ready for the enterprise," said Zaragoza.

The new product family will include: Microsoft Project Standard 2002, with an estimated retail price of $599 (£410); Project Professional 2002, priced at $999 (£683); and Microsoft Project Server 2002, priced at $1,499 (£1,026) including five Microsoft Project Server client access licences. Additional licences will be priced at $179 (£122) each.

With the release of Project Professional and Project Server, however, Microsoft is making a major step toward offering corporate managers a way to bring project and personnel data into a central repository, and collaborate on allocating resources across diverse projects.

A variety of project managers, each using Project, can store data on Project Server, which works with Microsoft SQL Server (purchased separately) and taps SQL (Structured Query Language) analysis and reporting functions, according to Zaragoza. Executives, equipped with Project Server client access licences, (as opposed to the actual application) use a Web browser to monitor data in the Project Server.

Executives, via Web access, can then use the new Portfolio Analyzer to set up user-defined criteria, and check on the status of various projects. Using modelling functions, executives can, for example, do "what-if" analysis if they see that a project is falling behind schedule and may have to draw on resources from other project teams.

Data can be imported - via XML functions for example - from legacy human-resources applications, and used to build project teams, Zaragoza said. Automated tools allow project managers to build teams based on available personnel and resources.

The new Project suite can be seen as a key to Microsoft's plans to build up a family of enterprise resource management (ERP) products, according to Dennis Byron, vice-president of the Enterprise Applications Research Department at market-research company IDC.

"Microsoft is increasingly competing with the ERP players. This [new Project] is just another logical rounding out of the product line, it helps get them into the professional services automation market as well, since you can use it to do asset maintenance across the enterprise," he said.

Microsoft will increasingly offer an integrated suite of business resource planning tools, as it develops software acquired last year with the purchase of business application vendor Great Plains Software and from the forthcoming acquisition of Navision.

Download this free guide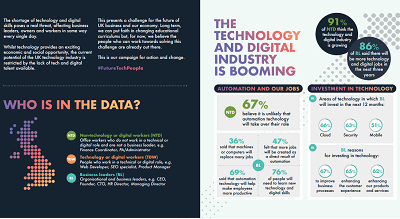 Infographic: How to future-proof UK technology
There is no doubt that the technology industry is booming right now, bringing with it exciting social and economic opportunities. However, there is a real fear that the UK industry may be stunted due to the lack of talent available. This e-guide helps to break down the future fears and expectations of dozens of business leaders and tech workers.
Read more on IT project management