Amlin challenges dominant credit insurers
Credit insurance group Amlin is set to make a push into the channel and increase market share after claiming its competitors'...

Download this free guide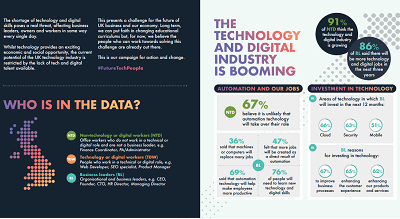 Infographic: How to future-proof UK technology
There is no doubt that the technology industry is booming right now, bringing with it exciting social and economic opportunities. However, there is a real fear that the UK industry may be stunted due to the lack of talent available. This e-guide helps to break down the future fears and expectations of dozens of business leaders and tech workers.

Credit insurance group Amlin is set to make a push into the channel and increase market share after claiming its competitors' cautious attitude to the sector had created an opportunity for the group.



Amlin is also pushing its creditinsure.com on-line service, which it claims offers instantaneous cover decisions and makes the credit management process easier.

Ruth Storey, an underwriter at Amlin, which is the third largest specialist insurance group at Lloyds, said there was a "tight squeeze" on credit in the IT sector at present - a situation which she believed gave Amlin a number of opportunities.

"Our competitors are making blanket rises of between 20 and 30 per cent following the events of 11 September - we aren't doing that, we've got a long-term view of the market and a personal relationship with our customers," she said.

Storey added the company had a "fair spread" of business across a number of vertical sectors and the IT industry made up around ten per cent of its coverage.

She stated the IT sector was unpopular with credit insurers at present, but stressed that if risk was well managed, it would not present major problems.

"Every sector has good and bad business - even in the riskiest sector there are good businesses - but with our knowledge and expert analysts, we manage our exposure quite effectively," Storey insisted.

She added that creditinsure.com allowed users to request cover on a company and get an answer and cover instantly in 90 per cent of cases.

The system worked on a set matrix, but difficult cases were addressed through the group's network of analysts, she revealed.

Debra Pennington, head of intelligence at credit analysis firm Graydon, said systems such as creditinsure.com were good for low-volume transactions, but had limitations.

"For high-value transactions, the system would be cumbersome because a £100,000 deal would need to go to an underwriter," she added.

Eddie Pacey, credit services manager at Ideal Hardware, said the channel needed new players such as Amlin to challenge the position of the dominant credit insurers.
Read more on Managing IT and business issues