Common mistakes to avoid when choosing a colocation data centre
When it comes to cheap colocation services, virtual data centre expert Mike Laverick shares mistakes he's made when selecting a hosting company.
Over the last couple of years, the size and scale of my personal lab environment has grown, and I've had a number of donations from various storage vendors to keep it growing. That led me to abandon my home lab environment and to instead hire rack space from commercial providers in order to expand my work in data centre colocation activities.
I've had both very bad experiences and brilliant ones in equal measure, and each time I have moved from one colocation data centre provider to another I've learned something new about the process. Sometimes when things don't go smoothly, the fault lies with the provider, and other times I admit it's M.O.S.F - My Own Stupid Fault.
I want to share with you those experiences and put them into a checklist so you don't make those same colocation mistakes when you're selecting a provider.
Since I don't think there is much to be gained from bad-mouthing companies from the perceived safety of a webpage, I will refer to the organisation that supplied truly appalling service as "Colocation-R-US". I will, however, name-drop some companies that I found to have excellent service.
Sometimes when things don't go smoothly, the fault lies with the provider, and other times I admit it's M.O.S.F - My Own Stupid Fault.

Mike Laverick, Contributor,
The goal of my colocation checklist is to offer you a real, unbiased and independent account of typical issues you'll face when deciding which colocation vendor to choose - and those of you who perhaps have substantial home labs that are becoming difficult to manage will learn from someone who's been round the block a couple of times.
Visit potential data centre colocation sites
One the fatal mistakes I made in 2005 when I signed up for my first colocation -- otherwise known here as "Colocation-R-US" -- was to not carry out a site inspection of the provider's infrastructure. Avoid the costly misstep of forgoing a trip to the colocation data centre where your equipment will be hosted.
As a one-man band, my main concern was overall cost of service. Normally, at this stage I would trot out my usual platitude of "you get what you pay for" when you choose a cheaper colocation service, compared to other services on the market, but in some cases this isn't true at all. In my current colocation data centre, I actually receive a better quality of service at nearly the same price. It stands to reason that corners are cut if the prices quoted are massively lower than competitor pricing.
So, in my case, the day I found out the quality of the infrastructure at my first colocator was the day I arrived there with my gear. I arrived to find that the "data centre" had bear metal racks without doors. The powers to these racks were supplied by 10-way gang sockets that one could buy from a local Argos store.
These were gaffer taped to the side of the rack. None of the power supply units were fitted with an AMP meter, so in order to measure additional power required, everything had to be shutdown and an inline AMP meter had to be fitted.
Beware of providers meeting minimum legal standards
Of course my Colocation-R-US provider did have some of the infrastructure you would expect in a commercial data centre. But after a few months, I began to realise that the standards they crowed loudly about on their website were in fact minimum legal standards.
You should expect fire-suppression units, backup generators and UPS systems, as without these a company would either fail a health-and-safety audit or fail to secure business from large companies that would be more concerned and aware of their corporate liabilities. But, we see this practice a lot in IT generally: core mandatory features sold as "added-value".
At Colocation-R-US there were two major power outages whilst I was there and one after I left their service. In all three instances the UPS failed and, as a consequence, the company's generator was rendered useless because it didn't kick in quickly enough to forestall the crash of customer equipment.
In the first two incidents, Colocation-R-US failed to communicate the issue to its customers, and it appears it simply hoped the restore of power would mean that customers' systems would boot up without errors. The company failed to address the issue that many systems have "dependency" requirements: If they are brought back online in the wrong order, then they simply don't work. It also ignored the fact that companies might use clustering and replication technologies where unexpected outages might require administrative intervention.
Beware of hidden extras
It's the bane of our lives that any purchase of a product or service may involve several, hidden, extra costs.
After the appalling service from Colocation-R-US, I was vigilant when inspecting and interrogating alternative data centre colocation providers about their services. Occasionally, I would get surprised looks from the better quality providers that would offer certain features of the service as a de facto package – I had no choice but to accept them. A good example of this is accessing the data centre. Colocation-R-US often wanted excessive notification for site visits. Pre-arranged visits were free during standard office hours, but inexplicably became chargeable after 5.30 pm. Additionally, they charged a fee for visiting the colocation data centre on either a Saturday or Sunday, often the ideal time for doing intrusive work that requires a maintenance window.
As part of my research for sourcing a new colocation provider after leaving Colocation-R-U, I visited five providers within an easy commute of my home and was able to narrow my choice down to two providers: The Iomart Group and Node 4 Ltd.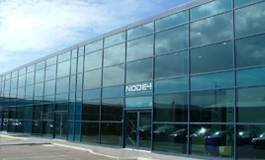 Node 4 building
Both providers are excellent and what I would regard as commercial grade. When I raised the issue of 24-hour access and additional charges, they both looked at me as if I was slightly unhinged. For them that sort of access is an industry standard.
To find out more common mistakes made when choosing a colocation data centre provider, see part two of this series.
MIKE LAVERICK'S BIO:
Mike Laverick is a professional instructor with 15 years of experience with technologies such as Novell, Windows and Citrix and has been involved with the VMware community since 2003. Laverick is a VMware forum moderator and member of the London VMware User Group Steering Committee. In addition to teaching, Laverick is the owner and author of the virtualisation website and blog RTFM Education, where he publishes free guides and utilities aimed at VMware ESX/VirtualCenter users. In 2009, Laverick received the VMware vExpert award and helped found the Irish and Scottish user groups. Laverick has had books published on VMware Virtual Infrastructure 3, VMware vSphere 4 and VMware Site Recovery Manager.
Read more on Managed services and hosting services